Goldleaf – a company composed of long-time marijuana growers – understands these deep-seated concerns. It is why they designed journals, prints, and other tools that can specifically assist you throughout the growing process. More than that, these products will also acquaint you with the joys and rewards of cannabis cultivation.
Grow Journals And Other Growing Aids
From recording growth history, product use, and vital information to visual aids, Goldleaf has everything you need to make the cultivation process both a breeze and a delight.
Journals
Goldleaf's journals are more than just a way to record the cultivation journey. They also help you note and avoid past mistakes, learn from previous grows, and repeat your triumphs. Most importantly, it enables you to perfect your growing style.
Aside from being functional, these one-of-a-kind planners are also aesthetically pleasing. Designed in Ohio, the exterior features classic sewn binding and rounded corners. The inner pages are cream-colored for easy reading. Each paper is also acid-free, chlorine-free, responsibly-milled, and made entirely of eco-friendly materials, allowing you to write without the guilt.
1. The Grow Planner
The Grow Planner is carefully designed to help you grow the highest-quality cannabis possible, regardless of experience level. It contains daily, weekly, and monthly spreads to help you monitor the plants. Since the templated entries are good for over sixteen weeks, you can keep track of the growth from the seedling stage up until harvest time without running out of space. You can also view your progress at a glance using the monthly and annual calendars.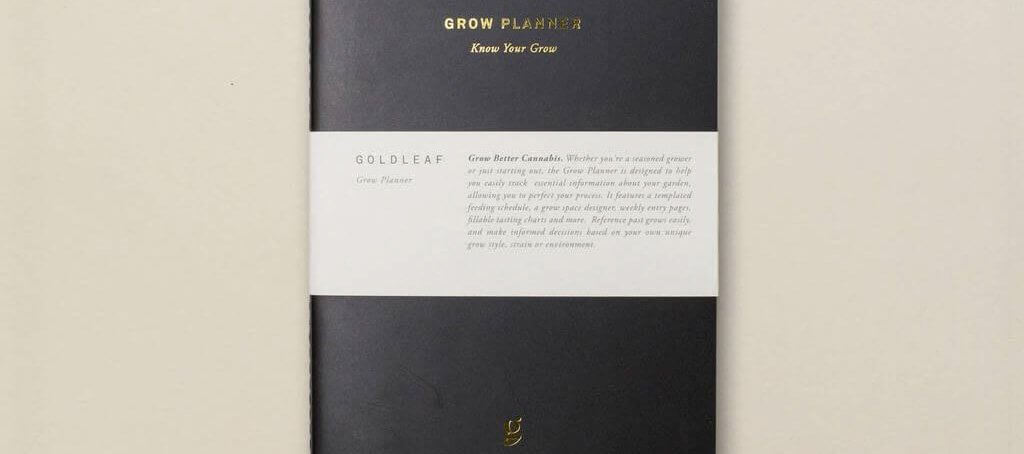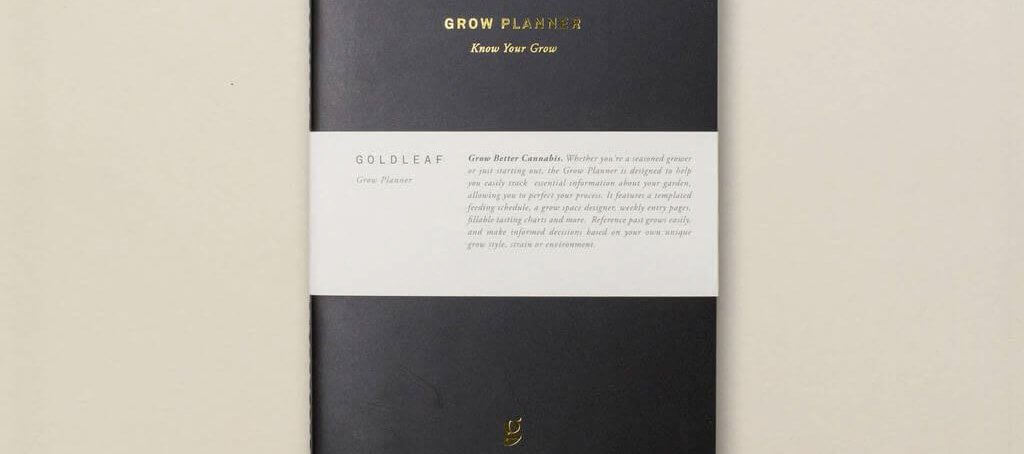 Aside from detailed spreads, The Grow Planner also features blank feeding schedule pages, supply cost planner pages, reference charts, and helpful diagrams. This rich collection of useful materials helps you make informed decisions to maximize plant growth and yields.
Retail Price: Starts at $19.99
2. The Grow Jotter
The Grow Jotter is a growing journal that you can fit snugly inside your pocket. You can whip it out practically any time to log your tasks and observations, or just to be up-to-date. Use it as intended, and no information, no matter how small, will slip past your mind.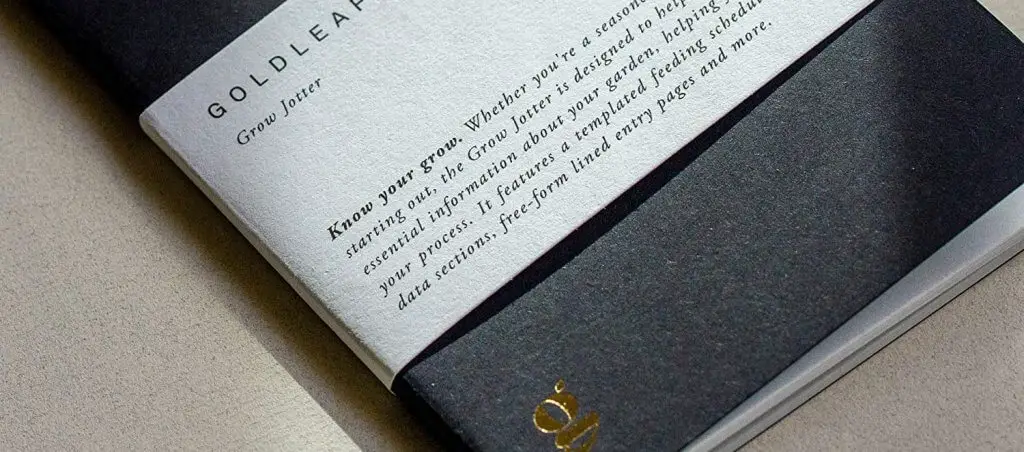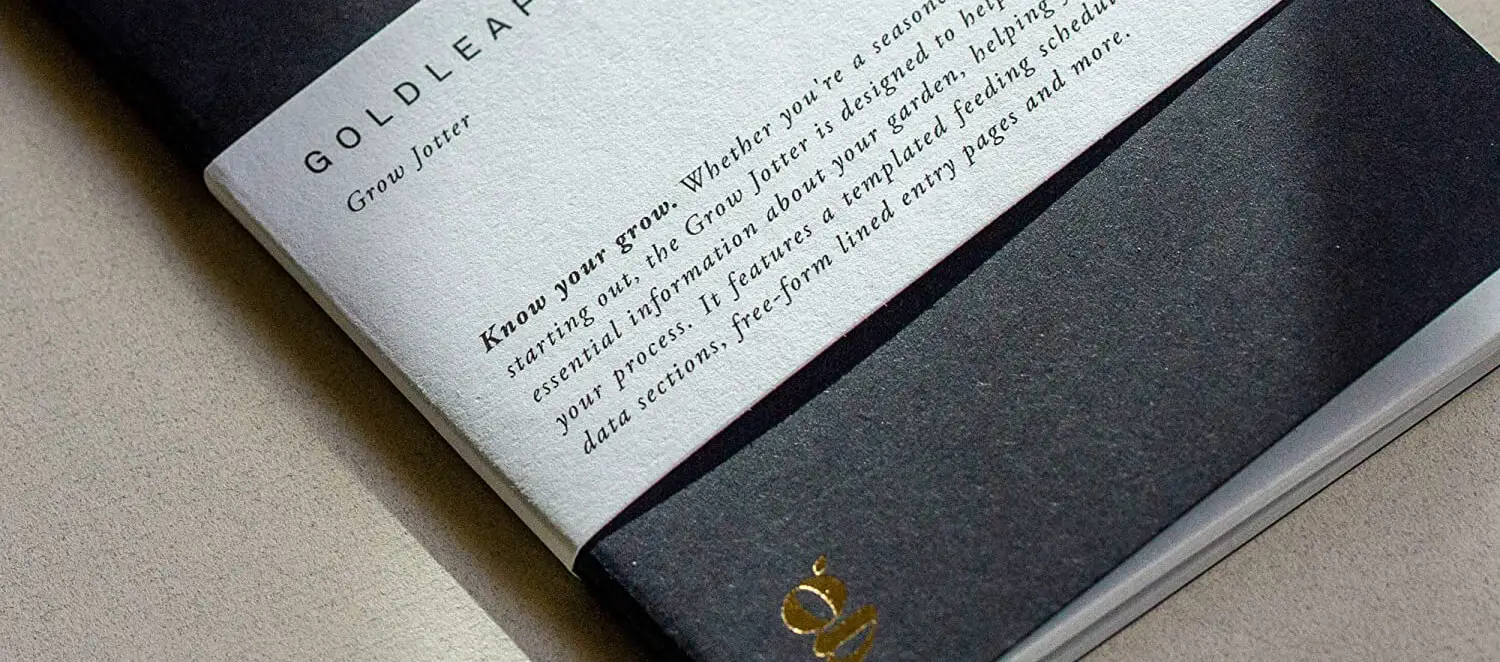 While not as comprehensive as the Grow Planner, this pocket-sized notebook already contains the barest essentials to help you stay on track, such as 52 templated entry pages and a feeding schedule. It even has a cultivar data section, where you can write down tasting notes after sampling the harvested and processed buds.
Retail Price: Starts at $16.99
3. The Blank Journal
The Blank Journal is a match-made-in-heaven for minimalists and those who have a no-nonsense approach to journaling. It contains 76 lined pages that you can customize as desired – or leave as is if you prefer free-form writing. It also has perforated pages that you can easily tear off. And since the notebook is not cannabis-specific, you can use it for other purposes as well.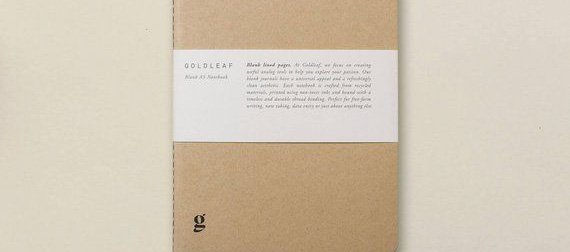 Retail Price: Starts at $16.99
Reference Cards
Goldleaf's reference cards will shed more light on what constitutes high-quality cannabis – including how you can grow one. It will, without a doubt, kick up your marijuana knowledge by several notches. Of course, you do not have to read everything, but they are there when you need them.
1. Cannabis Quality Reference Cards
The Cannabis Quality Reference Cards are a series of dual-sided infographics detailing the factors that affect marijuana quality, such as cultivation techniques and terroir. It also touches on the biology and chemistry involved, and the environmental impact of the plant.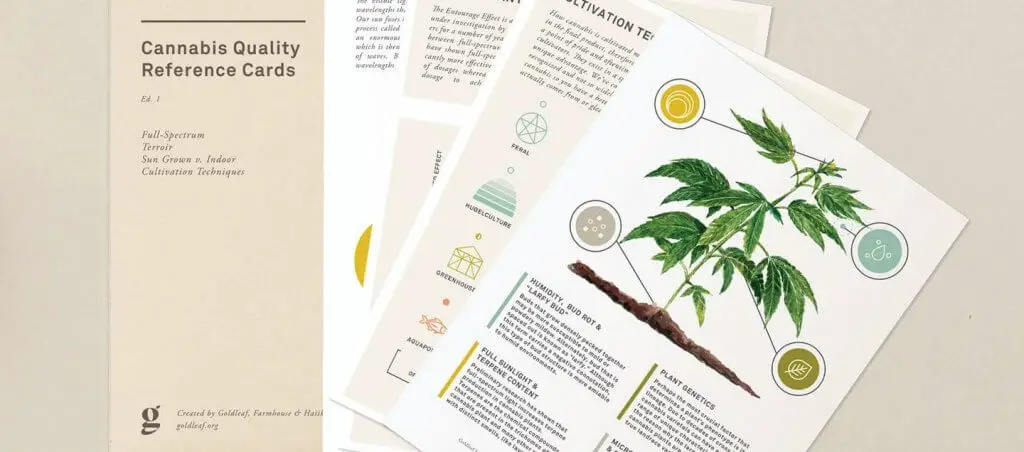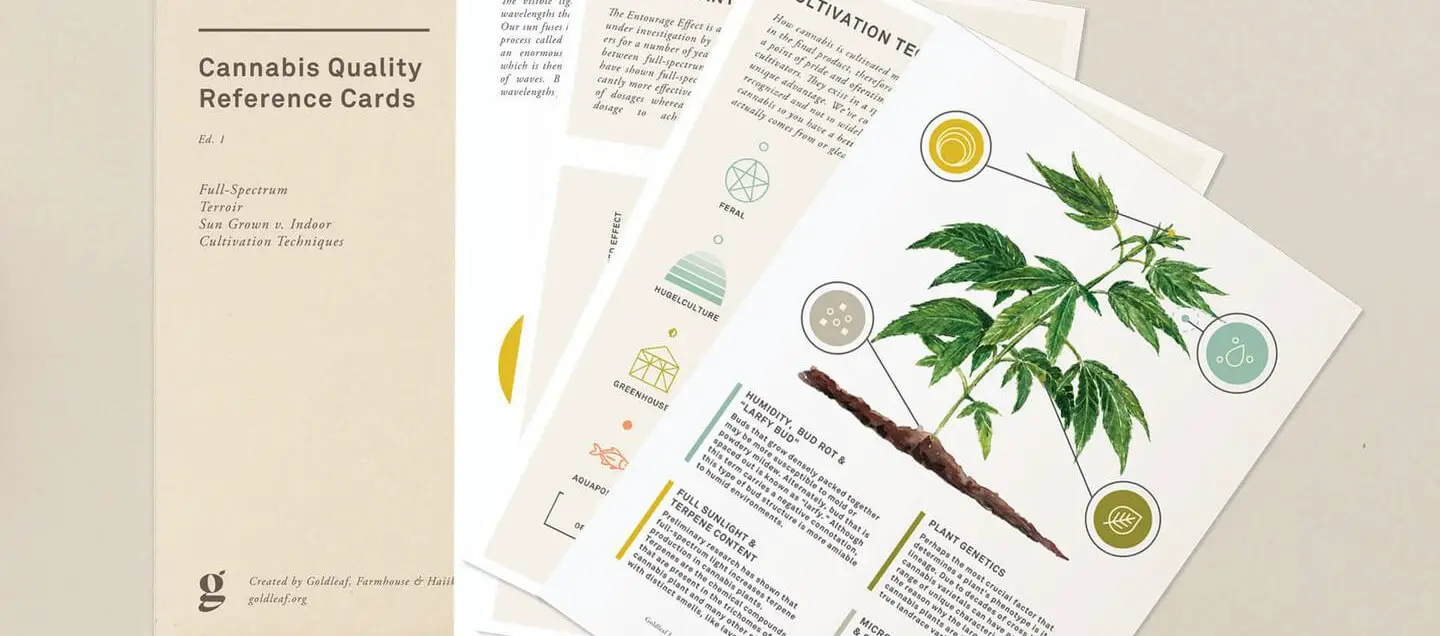 Sounds complicated? Don't worry. Goldleaf presents all the information in an easy to understand way. Even the design, diagrams, and illustrations – made in collaboration with Haiikuu and Farmhouse Artisan Market – are a feast for the eyes.
Retail Price: Starts at $9.99
Infographic Prints
Goldleaf's infographic prints will equip you with the most essential information on cannabis growing and consumption. Rest assured that every topic – including the most technical ones – is delivered in an easily digestible way.
These scientific materials are also an art piece. Each boasts a modern color palette, simple yet gorgeous designs, and ultra-high-resolution sketches. It is printed on a thick archival paper with a matte finish.
1. Cultivation Techniques
The Cannabis Cultivation Techniques Print describes sixteen popular growing techniques for marijuana plants, as well as the energy consumption and environmental impact of each. It does not only give you an idea about where the bud comes from. It will also help you decide on how best to raise your plants.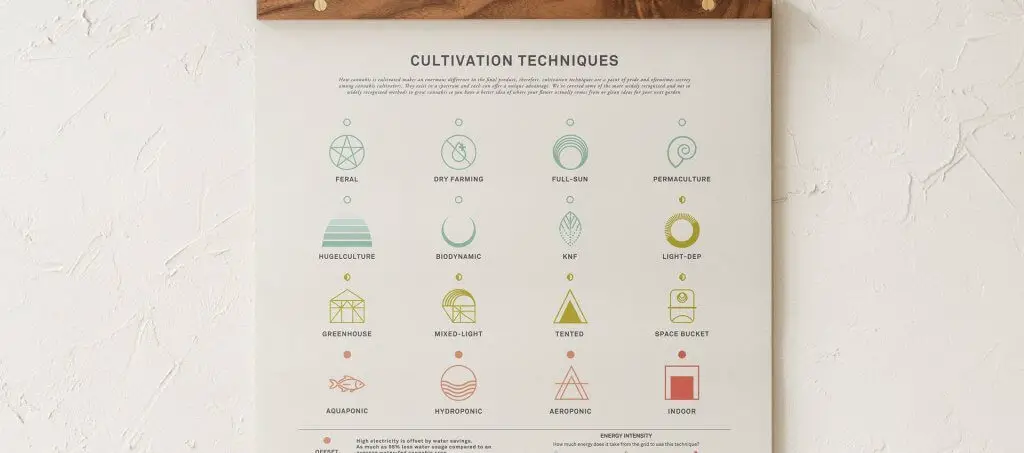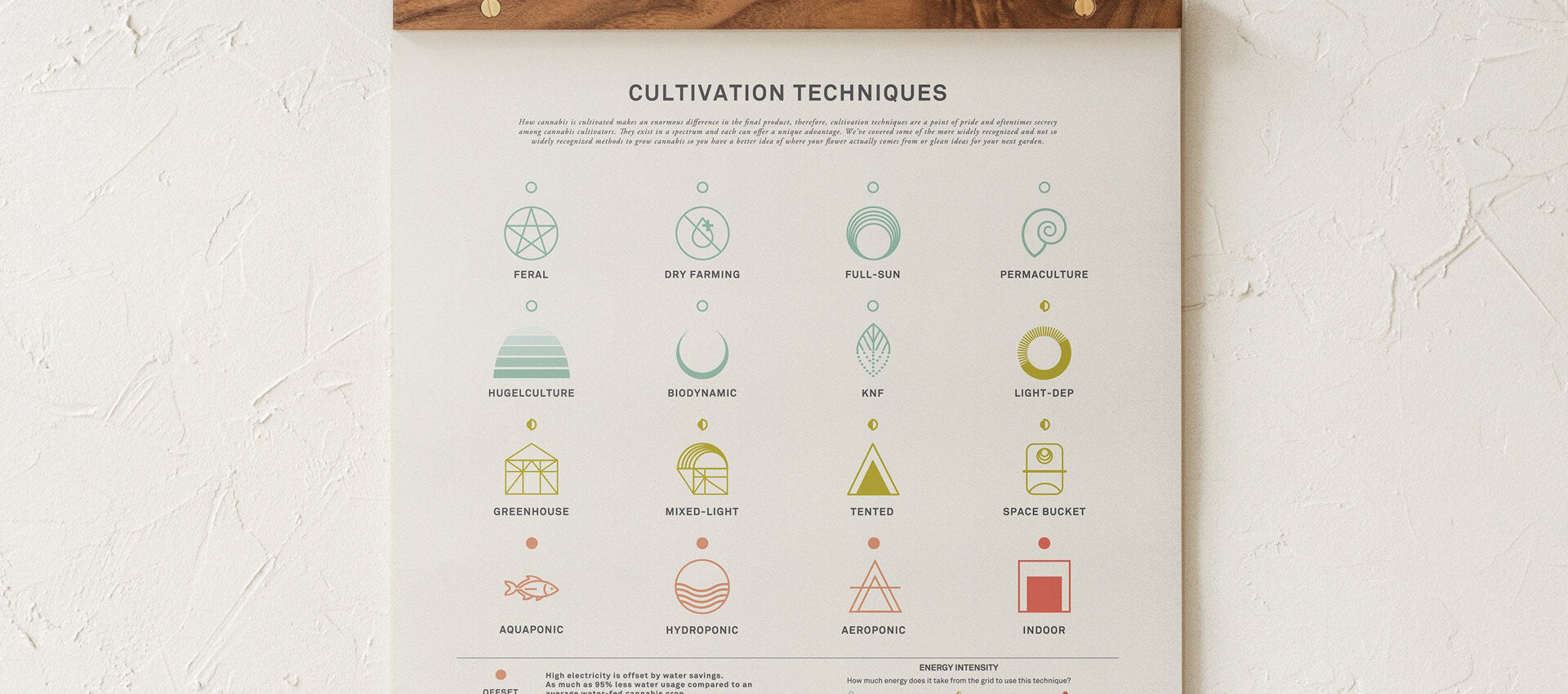 Retail Price: Starts at $32.99
2. Beneficial Insects
The Beneficial Insects Print showcases sixteen of the most useful bugs for any cannabis garden – including exactly which pests they combat. It is an excellent introduction to sustainable and organic pest control methods, which can help you grow only the purest, cleanest, and healthiest marijuana plants. The print is also a sight to behold, resembling a scientific illustration straight from the 1800s.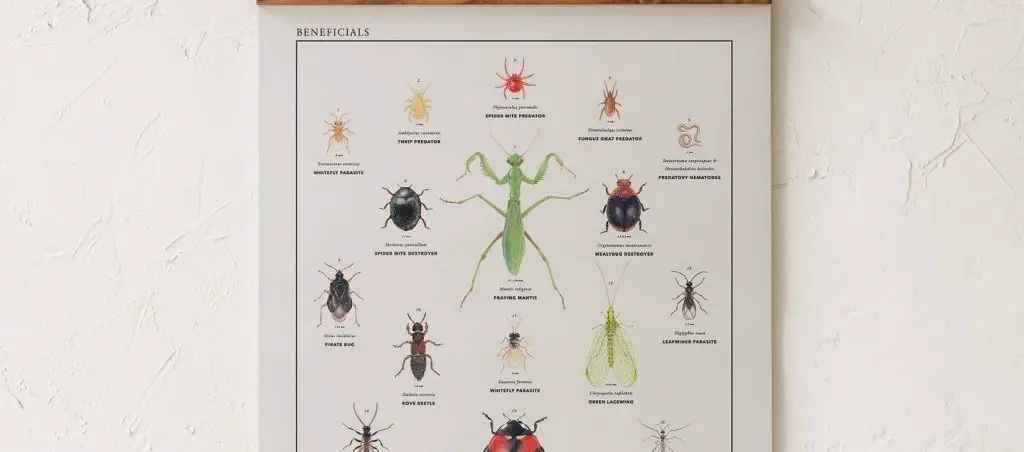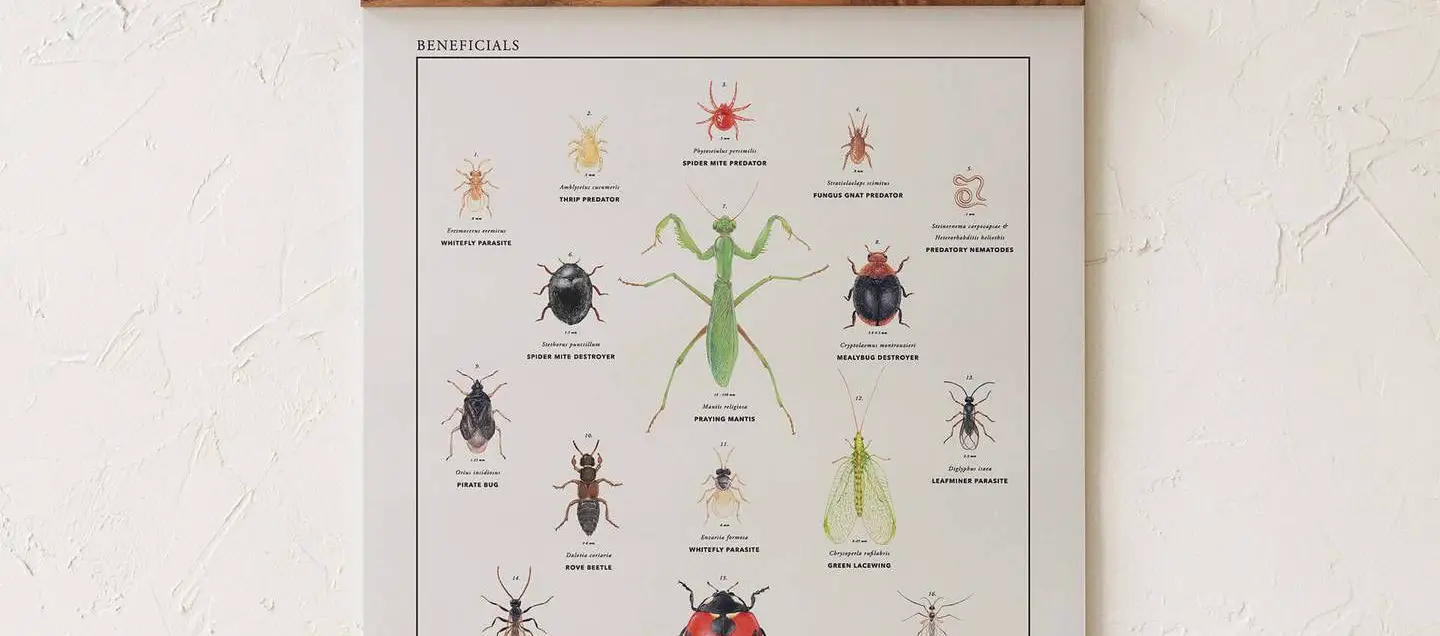 Retail Price: Starts at $32.99
3. Decarboxylation
The Decarboxylation Infographic Print demonstrates the chemical changes that cannabinoids go through with heat and time exposure. The information is presented in simple terms and easy-to-understand charts. Knowing the nitty-gritty of the decarboxylation process will help you prepare the flowers for use.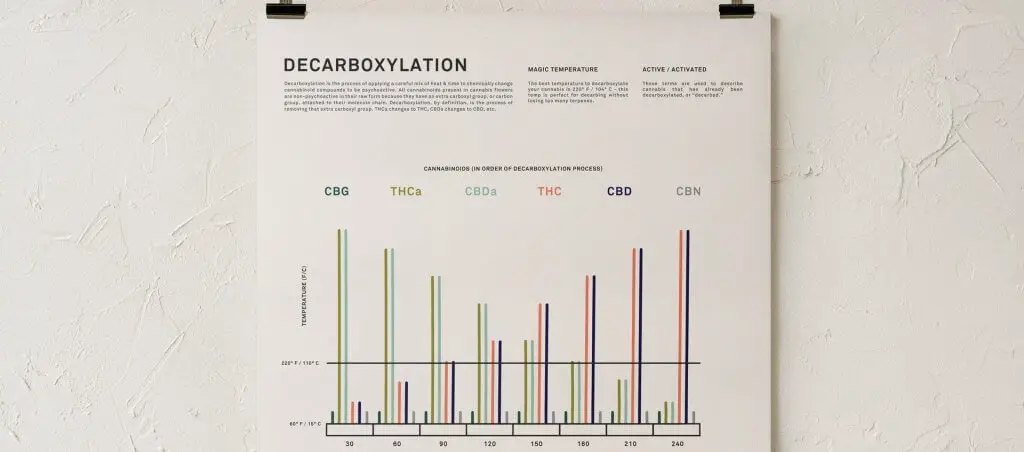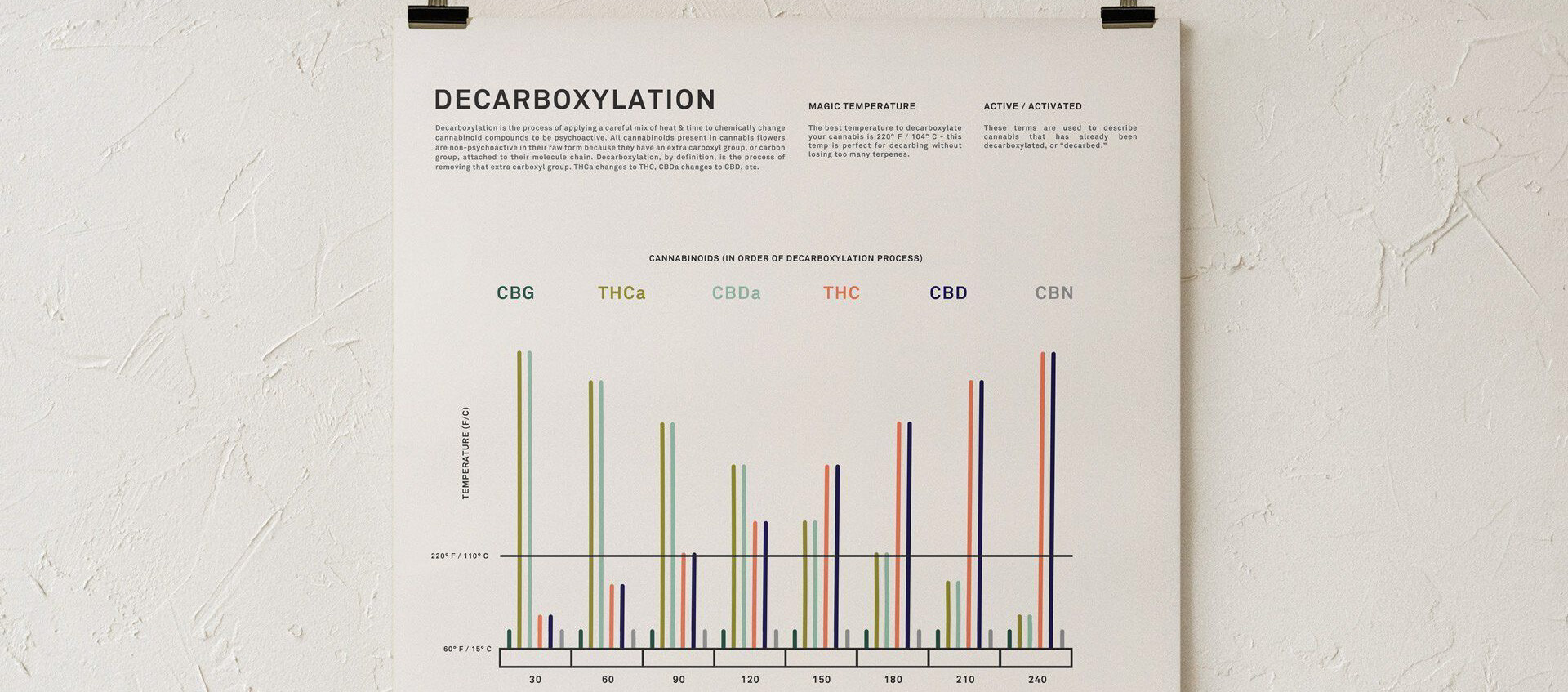 Retail Price: Starts at $32.99
Schedule
Growing cannabis plants requires you to keep tabs on many things. Your brain, though, can only retain so much information. And if you fall behind the feeding and watering schedule even once, you can compromise the health, growth, and yields of the plants. Luckily, Goldleaf has created this tool to make your life easier and more systematic.
1. Feeding Schedule
The Blank Feeding Schedule Wall Print can help you monitor nutrient and watering routines. Blank pages allow you to write crucial information. It includes the nutrients, measurements, EC or PPM values, pH levels, and light phases, among others. Aside from being functional, this timetable is also a decorative piece that can jazz up your grow space.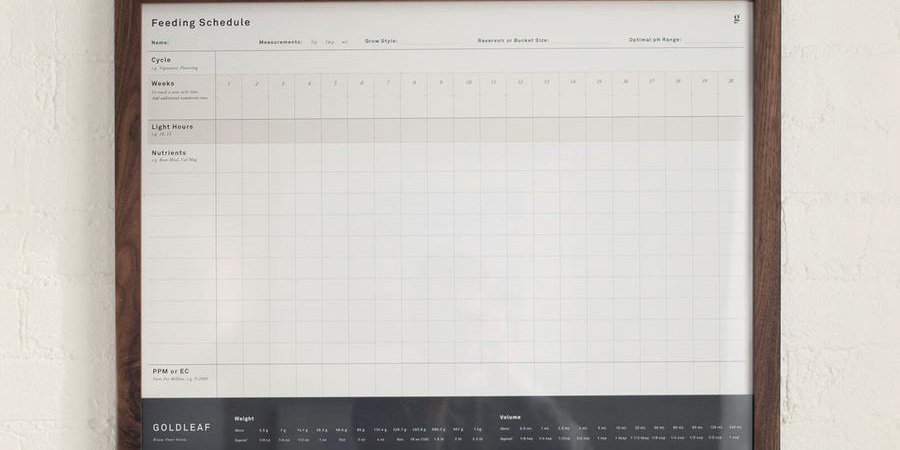 Retail Price: Starts at $32.99
Illustration Art Prints
Goldleaf's limited edition art prints are drawings of notable cannabis cultivars. Each illustration follows the style of the classic scientific sketches from the 1800s and 1900s, complete with stunning hand-drawn details and breathtaking colors. It is, needless to say, the perfect ornament for every marijuana lover's home.
1. Cannabis Botanical
The Cannabis Botanical Illustration Art Print features a quintessential cannabis cola in all its glory – dense buds, vibrant coloration, and a generous layer of hairy trichomes.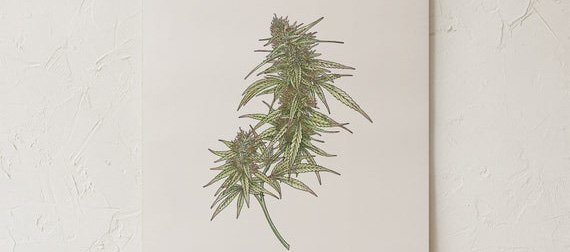 Retail Price: Starts at $32.99
2. Blue Dream
The Blue Dream Botanical Illustration Print highlights the popular daytime medication of the same name. It captures the distinctive indigo and blue hues of the bud, as well as the hint of amber coating the hairs.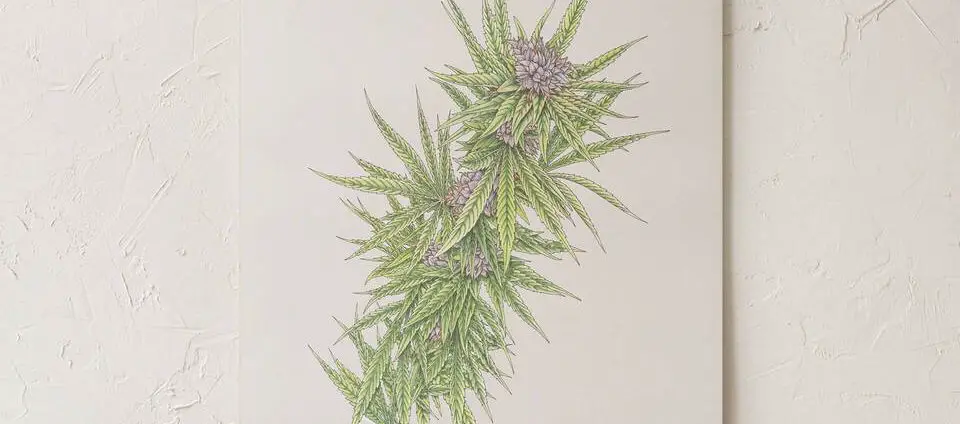 Retail Price: Starts at $32.99
3. White Dawg
The White Dawg Botanical Illustration Print is an excellent rendition of the Cannabis Cup Champion-winning strain. It shows the beautiful olive green nugs of the plant, which are sprinkled with bright orange hairs and a thick blanket of trichomes.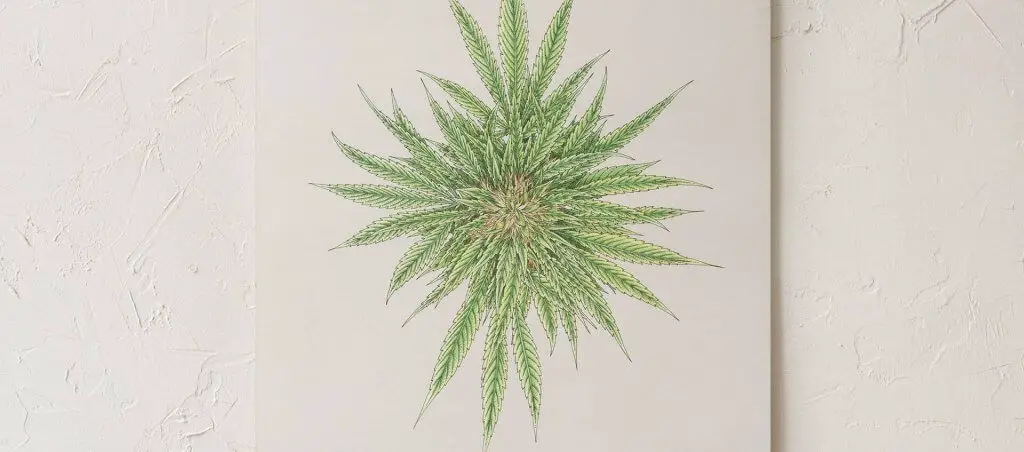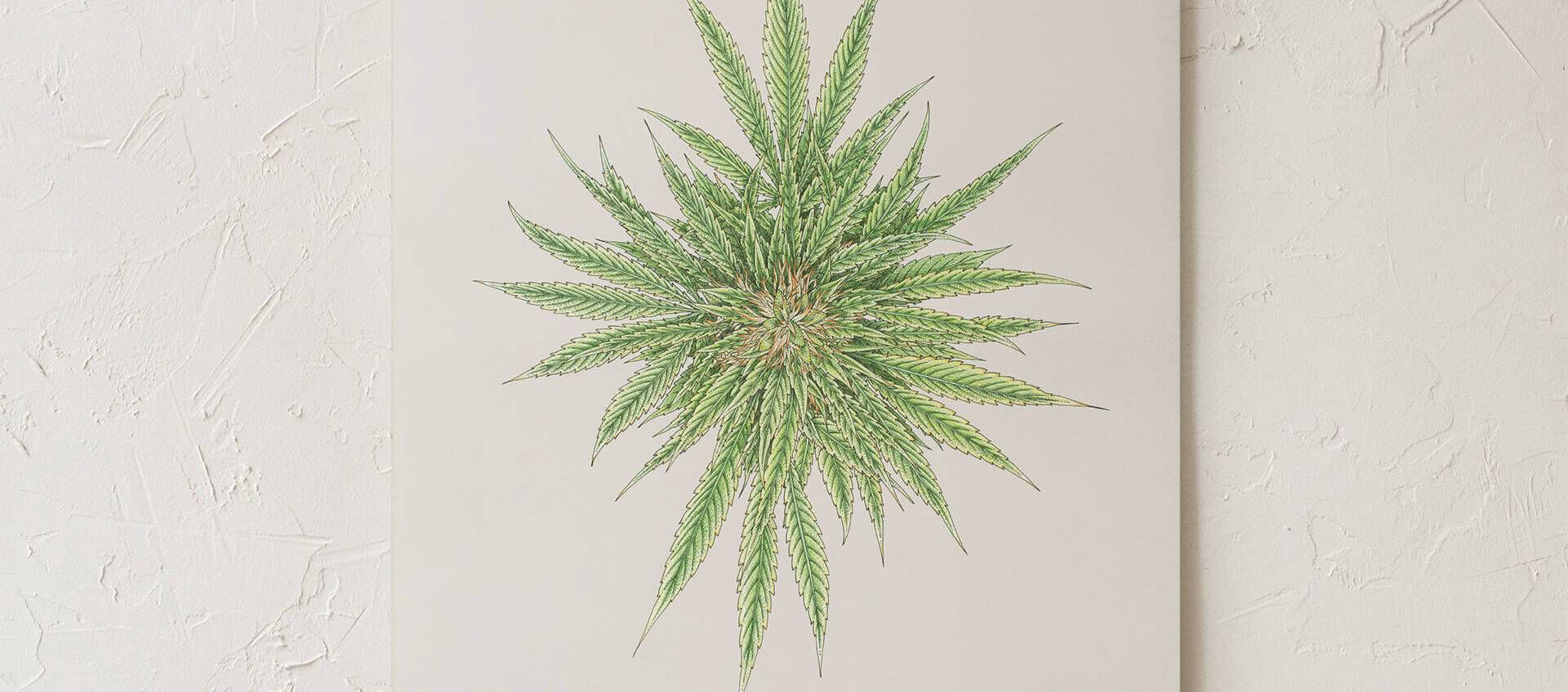 Retail Price: Starts at $32.99
4. White99 #1
The White99 #1 Botanical Illustration Print is the first of two drawings featuring the potent Sativa-dominant hybrid. It displays the small, tightly-packed nuggets spattered with burnt-orange trichomes.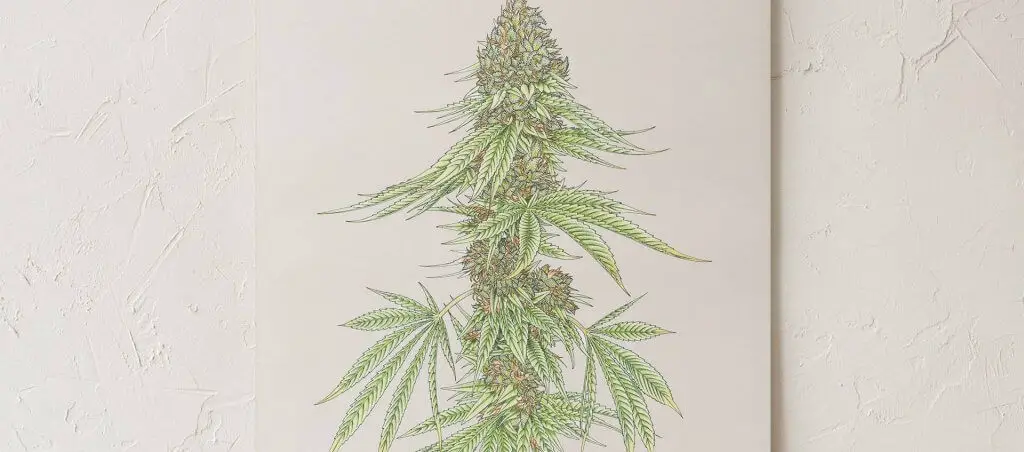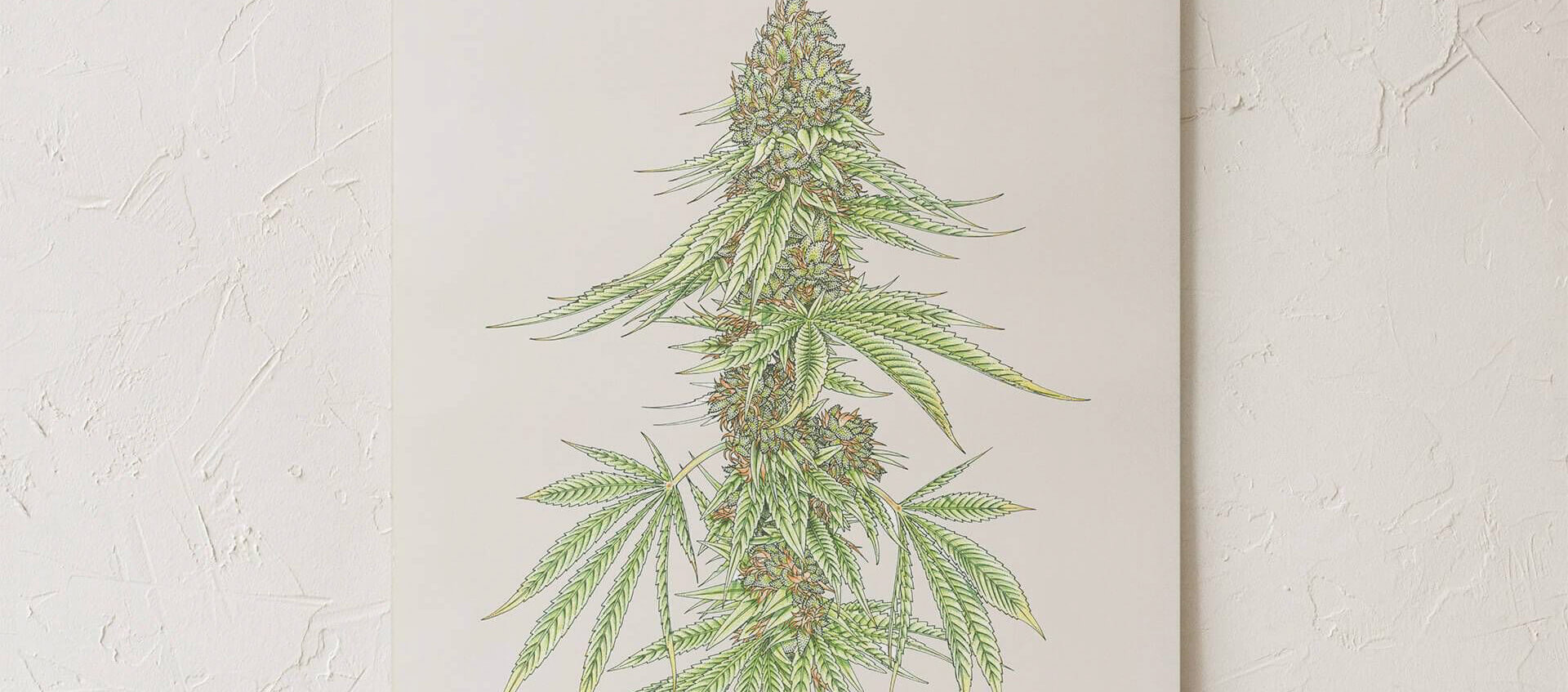 Retail Price: Starts at $32.99
5. White 99 #2
The White99 #2 Botanical Illustration Print is yet another artist's impression of this potent hybrid. It is as picturesque as the first one – emphasizing the thick forest green buds and the dense, amber trichomes.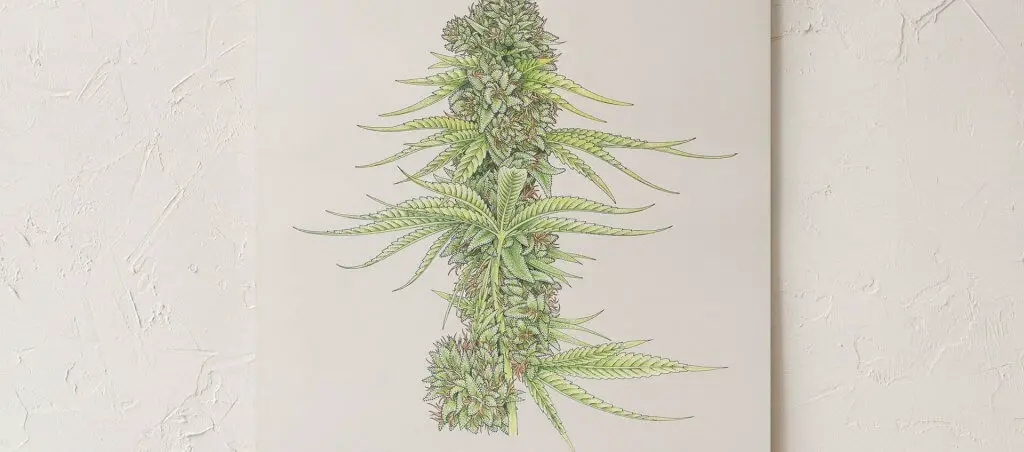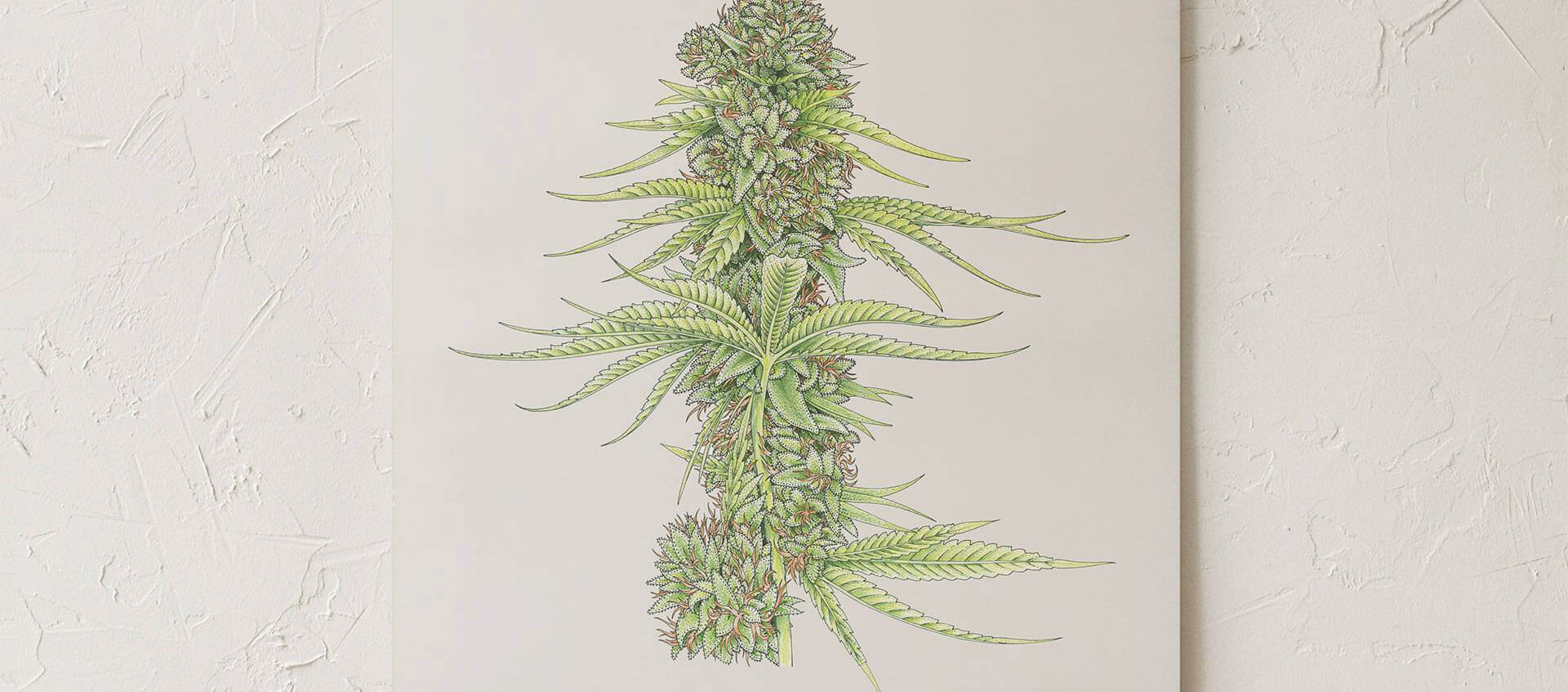 Retail Price: Starts at $32.99
About Goldleaf
Goldleaf is a Cincinnati-based company selling simple, practical, and elegant supplies for cannabis patients, growers, and enthusiasts. They aim to educate, clear up harmful misconceptions, inspire thoughtful conversations, and give consumers a new perspective on cannabis use and growing.
To do this, Goldleaf marries captivating designs with the latest scientific evidence, creating guided journals, infographics, and artworks. As a trusted figure in the field of cannabis research, the company cites only the most reliable and highest-quality scientific data. They are also passionate about the environment, sustainability, and charity works.