Ice cream is an all-time favorite dessert, especially during hot summer days. It is also one of the most versatile treats given a wide range of flavors that cater to palates of all preferences. This delightfully creamy treat could be made even better by infusing our favorite ingredient – weed-infused cream.
Two-Ingredient Cannabis Ice Cream Recipe For Newbie
Making your own homemade cannabis ice cream using this recipe is effortlessly easy. You don't have to be a pâtissier chef to perfect this recipe. You won't even need an ice cream maker or a whole lot of ingredients. In fact, you only need two: your cannabis cream and condensed milk. All you have to do is follow our guide, and you'll be snacking on this ice-cold treat in no time.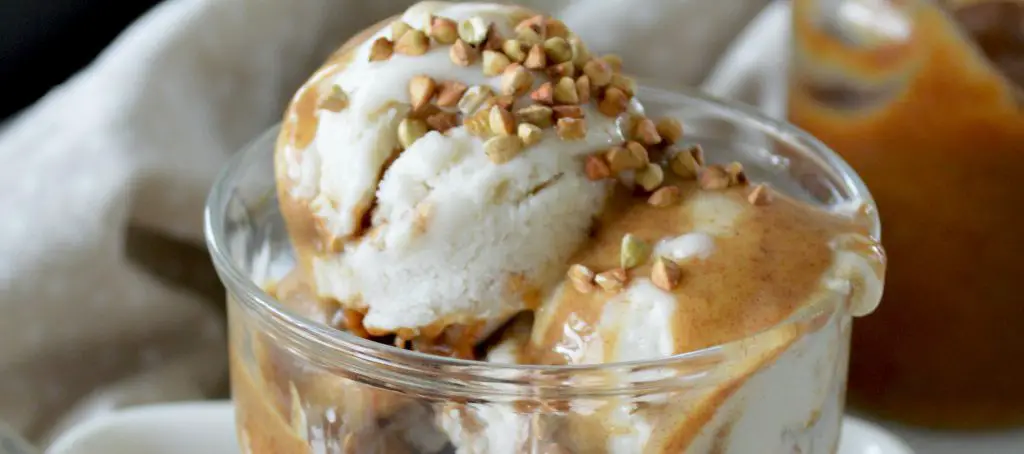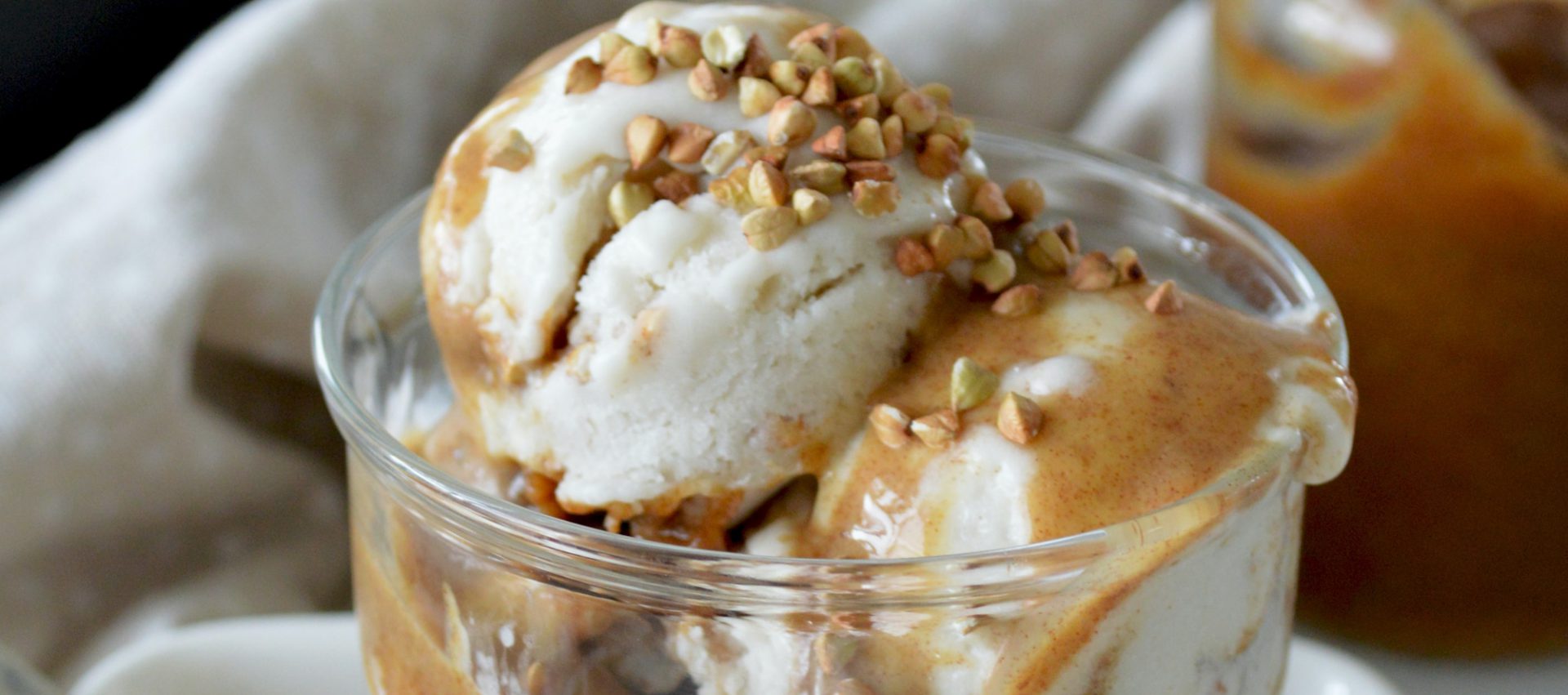 Yield: 6 servings
Prep Time: 10 minutes
Inactive Prep Time: 4 hours
Ingredients:
1 and 1/2 cup cannabis cream, chilled overnight
1 and 1/2 cup sweetened condensed milk
Optional Ingredients for added flavor:
1 tsp vanilla extract
1/2 tsp salt
Preferred flavoring
Preferred toppings
Equipment:
Large glass or metal bowl
Electric hand mixer
Silicone spatula
Cling wrap
Container that can fit in a large bowl
Large bowl with ice cubes and salt
Ice cream scooper
Procedure:
Put your metal or glass bowl in the fridge for about 15 minutes. The bowl has to be cold to make it easier to whip the heavy cream.
Take out the cannabis cream from the fridge and pour it in the chilled bowl.
Using the electric mixer, whip up the cannabis cream until it has formed stiff peaks.
In a separate bowl, pour the condensed milk and add the vanilla extract and salt if preferred. Then, use your spatula to scoop up and fold the whipped cannabis cream in the condensed milk. Do this in batches and fold it carefully so the whipped cream would not lose its volume.
After the condensed milk and cannabis cream has been well incorporated, transfer it into your container and cover it with a piece of cling wrap. Make sure the cling wrap is touching the surface of the ice cream. This will make it easier to freeze the dessert.
Place your container in the bowl halfway with ice cubes and salt. Then, chill it in the fridge for about 4 hours or until the ice cream is firm but still soft enough to scoop.
Now, all that's left is to scoop and serve the ice cream with your favorite toppings.
Fancy Cannabis Ice Cream For Pros
If you're feeling a bit fancy and you have a lot of time to spare, consider opting for this recipe instead. It does have a lot of extra steps and required ingredients compared to the easy ice cream recipe detailed above, but the resulting product is so worth it. After all, it is creamier, firmer, and a whole lot more flavorful.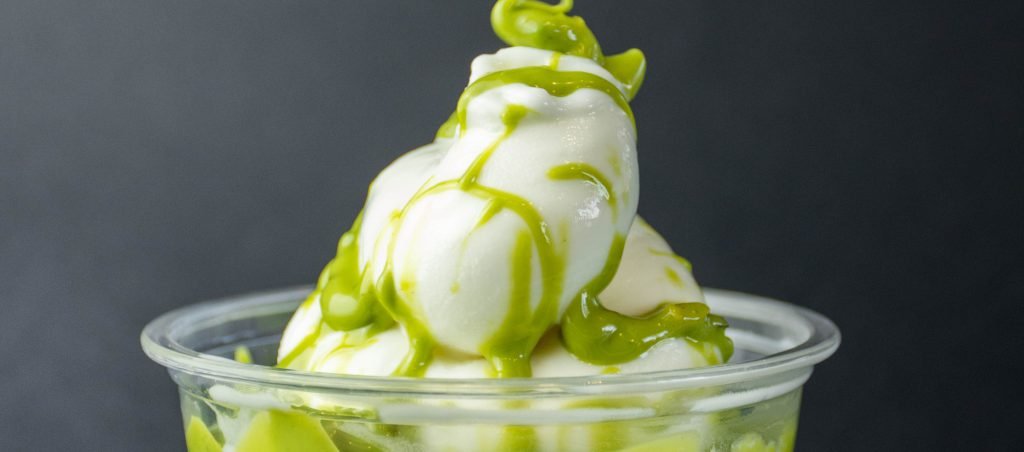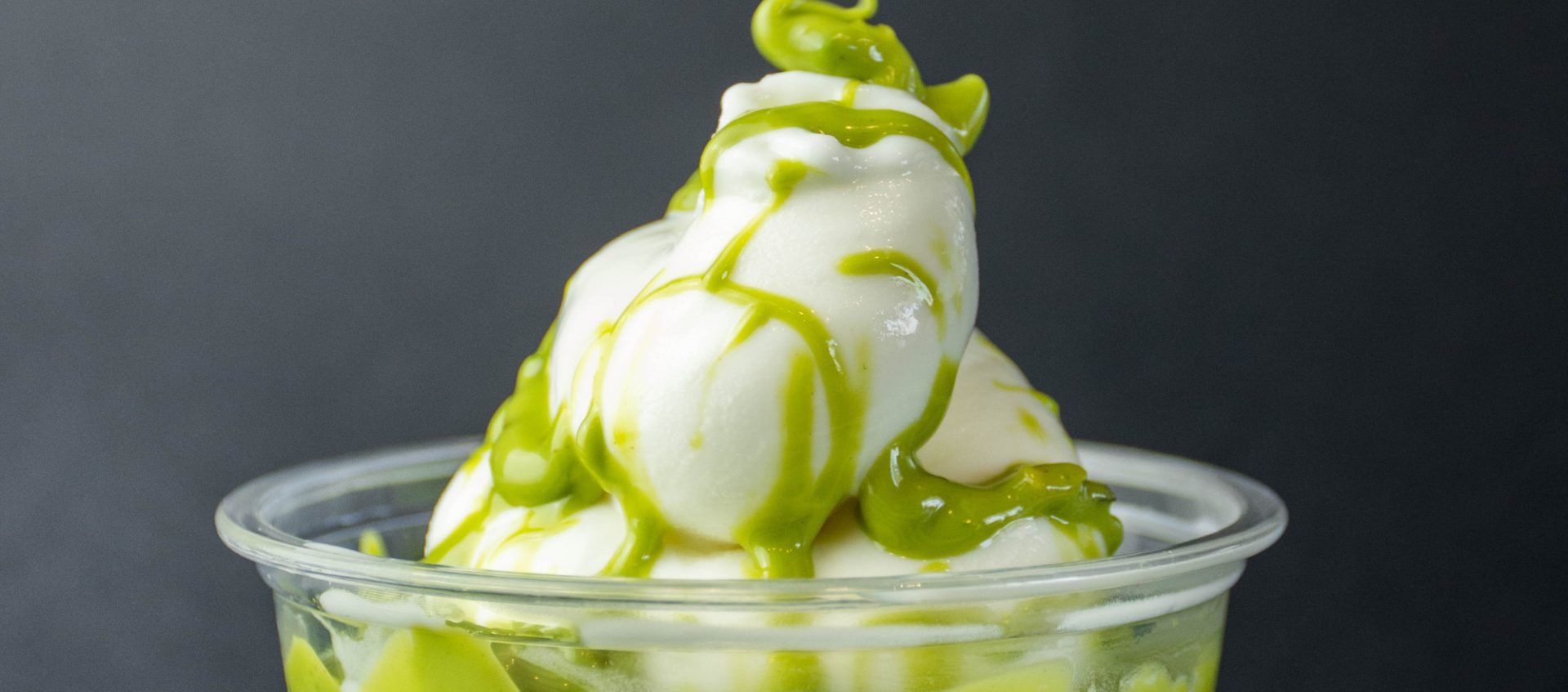 You can also make this recipe without a churning machine, but you'd have to do a whole lot of stirring. If you're up for the challenge, prepare your ingredients and let's get cookin'!
Yield: 3 quarts of cannabis ice cream
Prep Time: 20 minutes
Cook Time: 20 minutes
Inactive Prep Time: 4 hours
Ingredients:
1 and 1/2 cup cannabis cream
4 cups of milk
1 cup of sugar
1/2 tsp kosher salt
3/4 cups of dry milk powder
3 and 1/2 tbsp honey
1 tsp vanilla extract
1 tsp xanthan gum
3 large eggs
Equipment:
2 large bowls
Large saucepan
Wooden spoon
Wire whisk
Container
Cling wrap
Blender
Large bowl filled halfway with ice cubes and salt
Procedure:
In a large saucepan, combine the cannabis cream and milk, then turn up the heat to low. Mix it thoroughly and allow it to simmer for 5 to 10 minutes. Do not allow it to boil.
When it starts forming small bubbles, turn off the heat then add the sugar, salt, milk powder, honey, vanilla extract, and xanthan gum. Whisk the mixture briefly or just until the ingredients are well combined.
In another bowl, whisk the eggs until frothy. Then, pour it in the milk and canna-cream mixture. Turn up the heat to about 175°F (80°C) and keep stirring it until well incorporated.
After 5 to 10 minutes of mixing, turn off the heat and pour the mixture into a blender. Using the lowest setting of your machine, blend the mixture until bubbly.
Fit a fine mesh over your container and strain the mixture to get rid of any chunks.
Then, cover it with a piece of cling wrap. Make sure the cling wrap is touching the surface of the ice cream.
Put the container in a large bowl filled with ice cubes and salt. Chill it in the fridge for 4 hours, but check it every 30 minutes to give it a stir.
Once the ice cream has retained a firm (but not totally frozen) structure, it is ready to be served.
Portion the ice cream using a scooper and add your preferred toppings.
10 Must-try Ice Cream Flavor Ideas
One of the beauties of making homemade ice cream is that you have the liberty to decide what toppings or flavors go into it. The first two recipes are plain vanilla, so you can divide it into different batches and make different flavors of canna-ice cream out of it.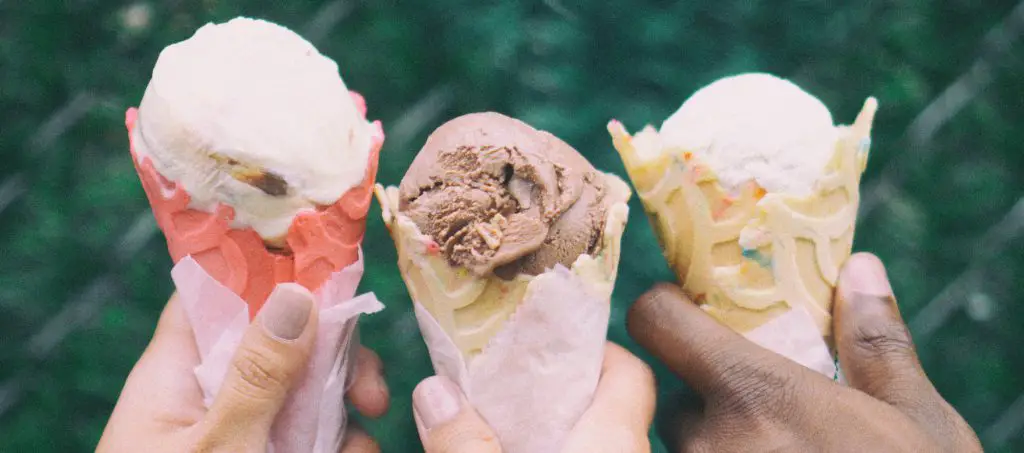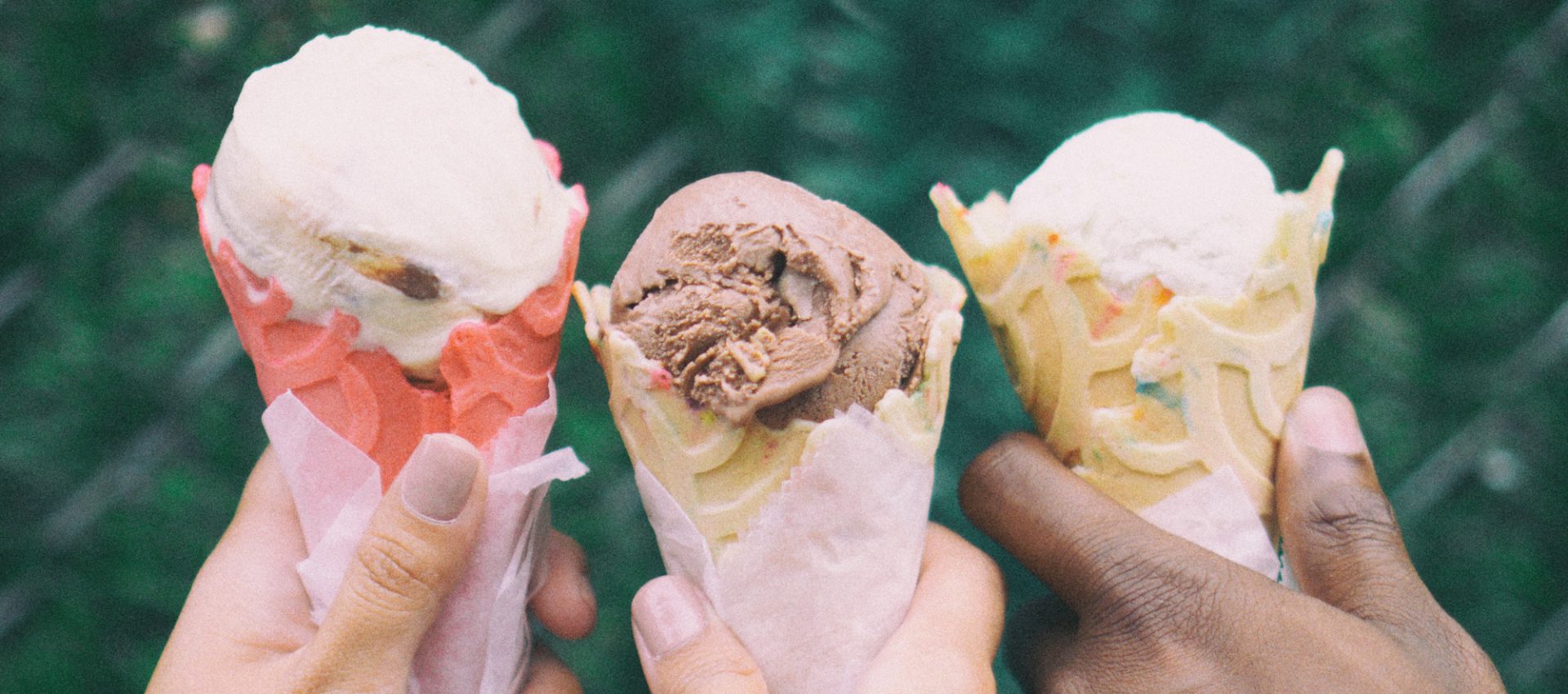 To do this, you have to mix in your chosen flavoring before chilling the ice cream in the freezer.
Here are some of the best ice cream flavor ideas you could create to make your plain cannabis ice-cream fancier.
1. Cheesecake
Beat 1 cup of softened cream cheese with a hand mixer until soft and fluffy.
Add this into your vanilla ice cream and stir thoroughly before storing it in the freezer.
2. Melted Chocolate Swirls
Melt 1 cup of dark chocolate and 1 tbsp of butter in a double boiler.
Mix it until well incorporated and allow it to cool.
Use a spoon to drip thin lines of melted chocolate into the ice cream. Give it several stirs to make swirls.
3. Nutella or Peanut Butter Swirls
Mix in 3/4 cups of Nutella or peanut butter in the ice cream before freezing it.
For added flavor and texture, you can add small chunks of Reeses' peanut butter cups.
4. Rocky Road
Melt 1 cup of chocolate and 1 tablespoon of butter in a double boiler. Allow it to cool slightly then mix it in the cannabis ice cream using an electric hand mixer to make a chocolate base.
Chop 1/2 cup of chocolate into bite-sized chunks then set aside.
Chop 1/4 cup of nuts (pecan, almonds, walnut, or hazelnut) into small pieces.
Combine the ice cream, chopped chocolate, nuts, and mini marshmallow.
5. Dulce De Leche/Salted Caramel
Open a 350 ml can of dulce de leche and mix it in the ice cream to create caramel make swirls.
After freezing the ice cream, serve it with some sea salt on top for added flavor and fanciness!
6. S'mores
Crush 10 graham crackers in a resealable bag.
Chop 1/2 cups of chocolate.
Add the crushed graham crackers, chopped chocolates, and mini marshmallows before storing the ice cream in the freezer.
7. Cookies & Cream
Take 15 Oreo cookies and separate the cream from the cookies.
Melt the cream in a double boiler and incorporate it into the ice cream.
Crush the cookies in a resealable bag and sprinkle it all over the ice cream. Mix well until thoroughly combined.
8. Mixed Berry Swirls
In a medium-sized saucepan, mix 1/2 cup of mixed berries of your choice (cranberry, blueberry, blackberry, raspberries, etc.) and 1/2 cup of granulated sugar.
Heat it until the berries have softened and the sugar has melted. Gently crush the berries while leaving some bite-sized pieces intact. Mix it until well-combined.
Once the mixture has started to bubble up, turn off the heat and allow it to cool.
Mix the berries in the ice cream.
9. Coffee Crumble
Melt 2 tablespoons of instant espresso powder in 4 tablespoons of hot water.
Chop 1/2 cups of dark chocolate into bite-sized chunks.
Using a hand mixer, mix the espresso mixture in the vanilla cannabis ice cream until well incorporated.
Add in the chocolate chunks and freeze.
10. Matcha
Take 4 tablespoons of boiling water and add 1 tablespoon of matcha powder. If you want a more robust matcha flavor, you can add more.
Add the matcha mixture in the ice cream.
If you want to make it fancier, mix in 1 drop of green food color and small chunks of matcha-flavored Kit-Kats.
Pop it in the fridge and allow it to set. Serve chilled and enjoy!