Summer is here! That means it's time for some fun out in the sun. If you're planning to throw a party at the beach or a picnic at the park but still wondering which snack to bring to beat the heat of the sun, worry not because we got you covered. Here are the best summer weed treats that will surely refresh your taste buds.
Note: These weed treats are irresistibly good, so make sure you label these edibles properly and keep it away from children.
1. Lemony Peach Cannabis Popsicles
Popsicles are classic summer treats, but this one comes with a twist. It will not only refresh you, but it will also get you high! Now, pull out your blender and be ready to make the most luscious ice pop you'll ever taste.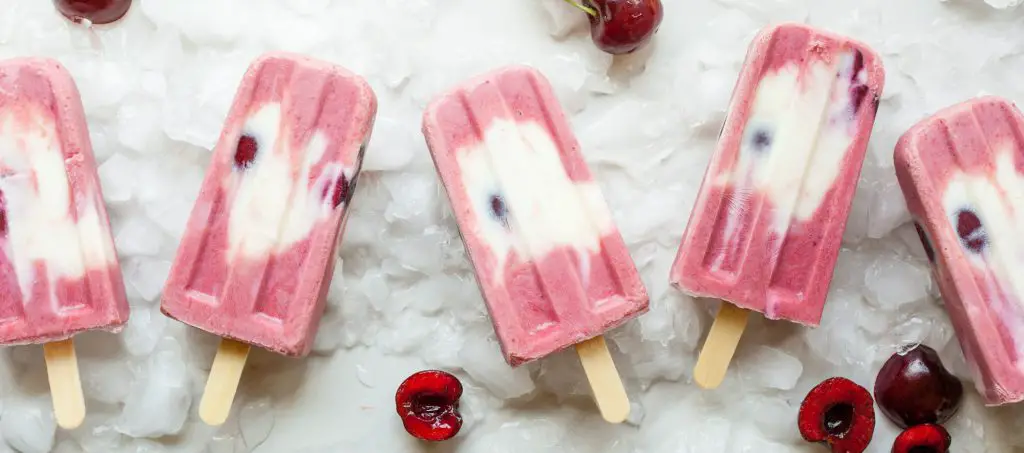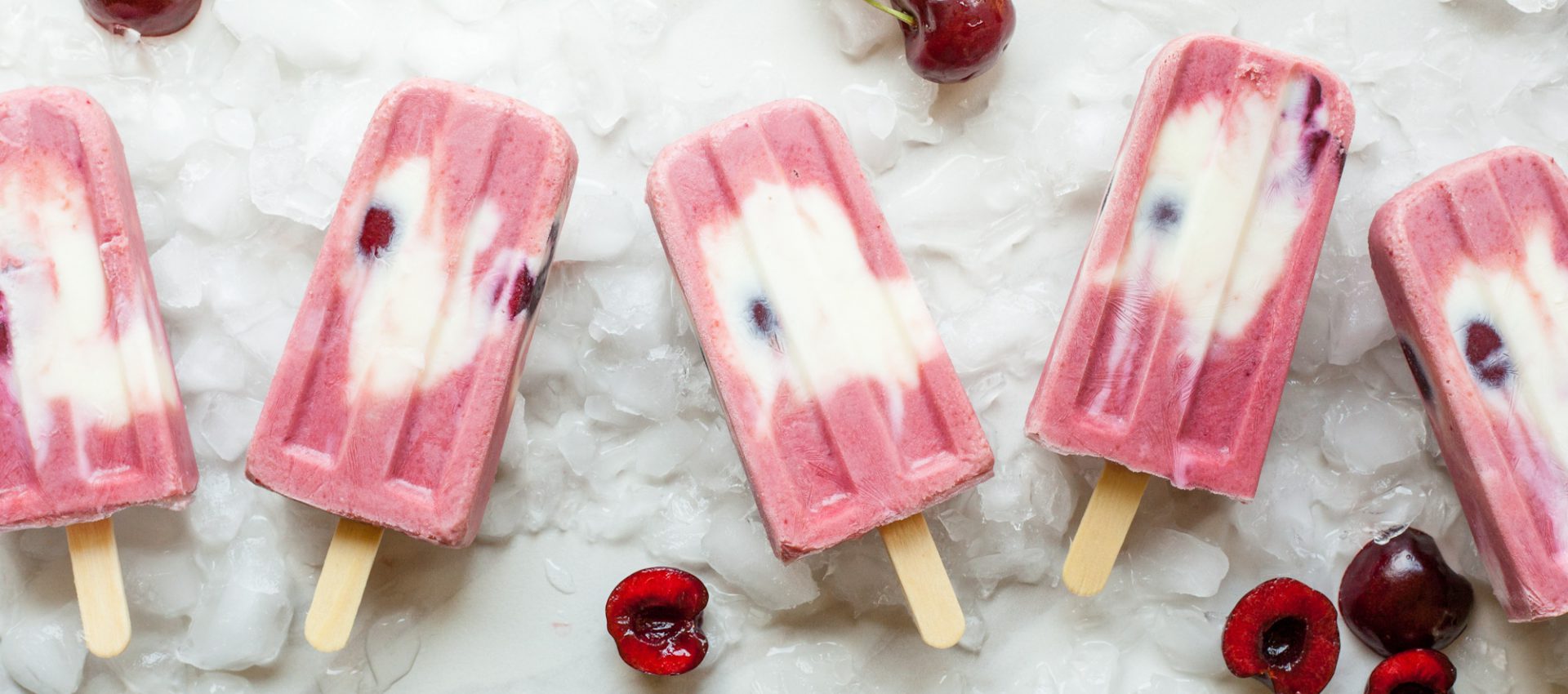 Yield: 8 servings of 3-ounce popsicles
Prep time: 10 minutes
Freezing Time: 4 hours
Cook Time: 5 minutes
Ingredients:
1 and 1/2 cup (12 oz) mixed berries (blueberries, raspberries, blackberries, cranberries, etc.)
1 cup Greek yogurt
1 cup cannabis cream
3 tablespoons sugar
1/4 cup honey
1/2 small lemon, juiced
A pinch of sea salt
Equipment:
Saucepan
Wooden spoon
Large bowl
Popsicle molds
Popsicle sticks
Procedure:
In a medium-sized saucepan over low to medium heat, combine the mixed berries, sugar, salt, and about two tablespoons of honey. Stir it often to prevent burning.
When the mixture thickens, turn off the heat and allow it to cool.
In another bowl, blend the greek yogurt, cannabis cream, lemon juice, and the remaining honey until well incorporated. If you want tart popsicles, add more lemon juice.
Once the berries have cooled down, pour it in the yogurt mixture. To achieve a marbled effect, just gently fold the berries into the yogurt with a wooden spoon. Do not mix it thoroughly.
Pour the marbled mixture in the molds and insert the popsicle sticks. Freeze it for at least 4 hours.
Once ready for popping, submerge half of the mold in warm water for about 10 seconds. This will make it easier to remove the popsicles from its mold.
2. Cannabis-Infused Fruit Salad
Fruit salad is a healthy dessert best served when chilled. Most people love it for its creamy texture and refreshing fruity flavor. With this version, though, we're going to use cannabis cream to elevate the experience of enjoying this festive dish.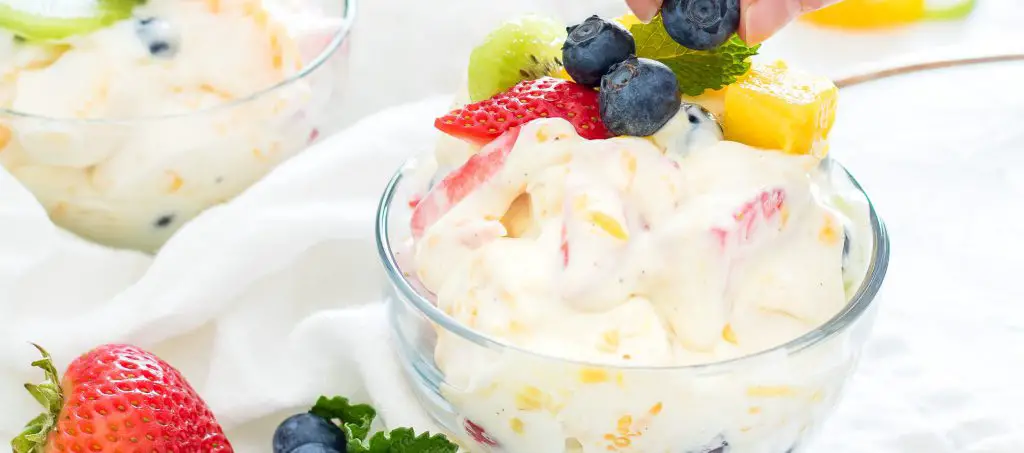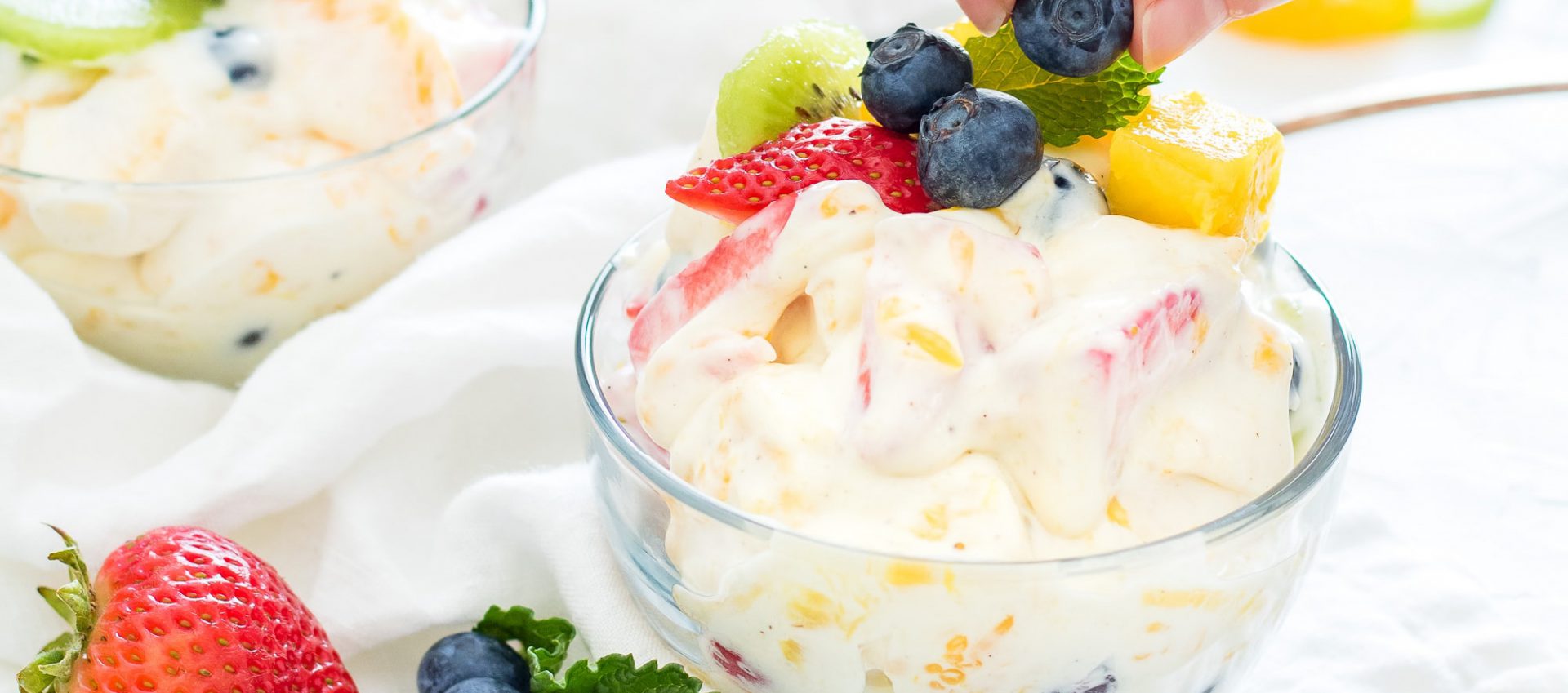 Yield: 10 servings
Prep Time: 15 minutes
Freezing Time: 2 to 4 hours
Ingredients:
1 cup of mixed fruit cocktail
1 cup of sweetened condensed milk
1 cup of cannabis cream, chilled overnight
1/4 cup coconut gel (nata de coco)
1/4 cup shredded young coconut meat
1/2 cup cheese, cut into small cubes
Cherries for garnish
Equipment:
Large bowl
Container with lid
Procedure:
In a large bowl, combine the sweetened condensed milk and chilled cannabis cream. Give it a good stir until thoroughly combined.
Drain the liquid from the fruit cocktail.
Wash and drain the coconut gel.
Add the fruit cocktail, coconut gel, coconut strips, and cheese cubes in the cream mixture and stir.
Store in a container with a lid and freeze for about 2 to 4 hours.
Serve chilled with a cherry on top.
3. Magic Chocolate Shell Banana Bites
Magic chocolate shell is an ice cream topping that magically hardens when drizzled. Biting into this hard, sweet, and no-mess dessert is always satisfying – even more so when mixed with our secret ingredient – marijuana.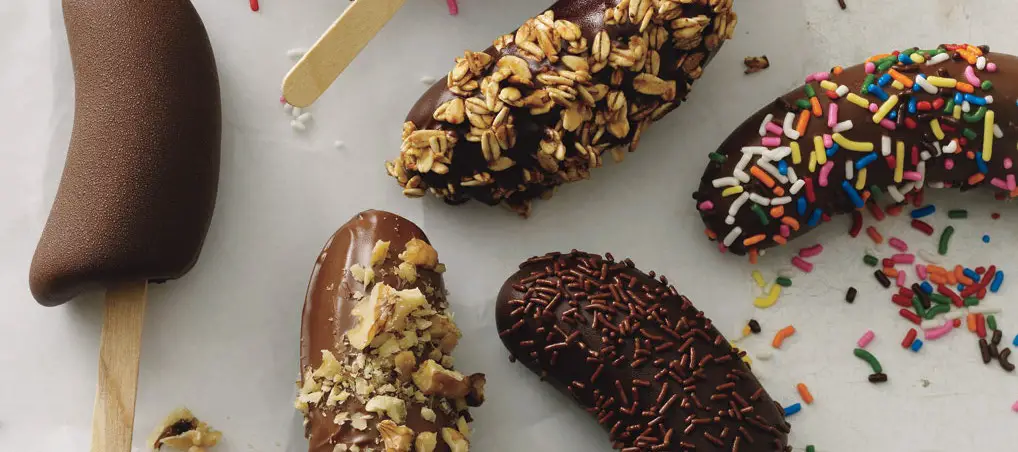 This tasty treat is perfect for chocolate lovers and edible fans who got a lot of time to spare to prepare some delightful summer weed treats.
Yield: 30 servings
Prep Time: 30 minutes
Cook Time: 30 seconds
Ingredients:
1 cup dark chocolate
1 cup cannabis-infused coconut oil
1/3 cup light corn syrup
5 large ripe bananas, chilled overnight
500 ml frozen ice cream
Preferred toppings (nuts, sprinkles, sea salt, etc.)
Equipment:
1 and 1/2 inch ice cream scooper
30 pcs small silicone cupcake mold
Microwave-safe bowl
Silicone spatula
Glass container for the chocolate syrup
Procedure:
In a microwave-safe bowl, combine the chopped chocolates, cannabis-infused coconut oil, and light corn syrup. Mix well.
Pop it into the microwave and heat at medium setting for 15 seconds.
Take it out of the microwave to stir, then heat it again for another 15 seconds. Give it a final stir to make sure everything is well incorporated.
Store it in a glass container at temperature.
Peel your chilled bananas and cut it into half-inch thick round pieces.
Put one banana piece in every silicone mold, then top it with a scoop of ice cream.
Finally, for the most satisfying part, drizzle some of the chocolate syrup we made earlier until the ice cream is fully coated. Quickly sprinkle your desired toppings. After 15 to 30 seconds, the chocolate will harden. It should have a matte appearance.
Invert the silicone cups to pop out the chocolate-coated ice cream and banana. Serve it in a dessert platter and consume it immediately.
You could also save some and store it in the freezer for 2 to 4 weeks. If planning to store, don't remove it from the silicone cups. Instead, put the cups in a resealable plastic bag or a large container with a lid then keep it in the freezer.
4. Easy Green Smoothie
If you have overripe bananas that are too mushy to eat, don't throw it out yet because you can use it to make a delicious smoothie. This green smoothie recipe only takes minutes to make. Even better, it has euphoric and medicinal benefits that could last for several hours!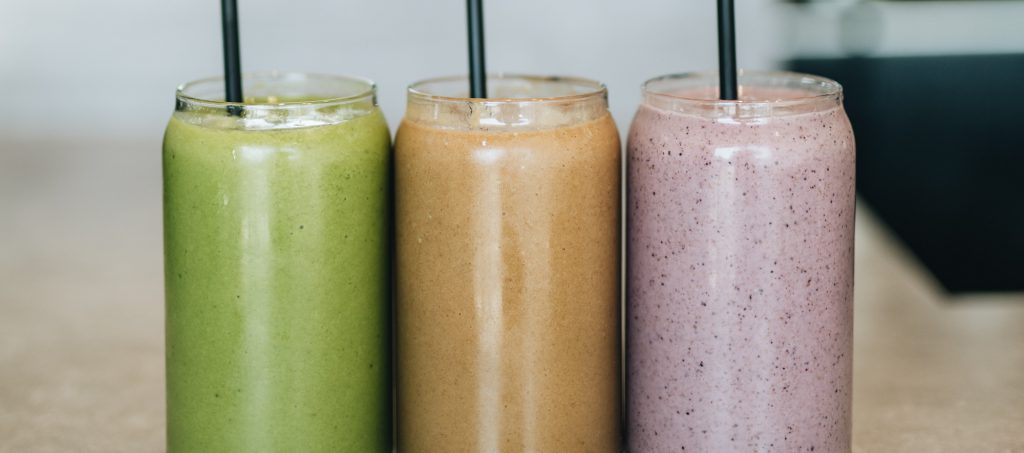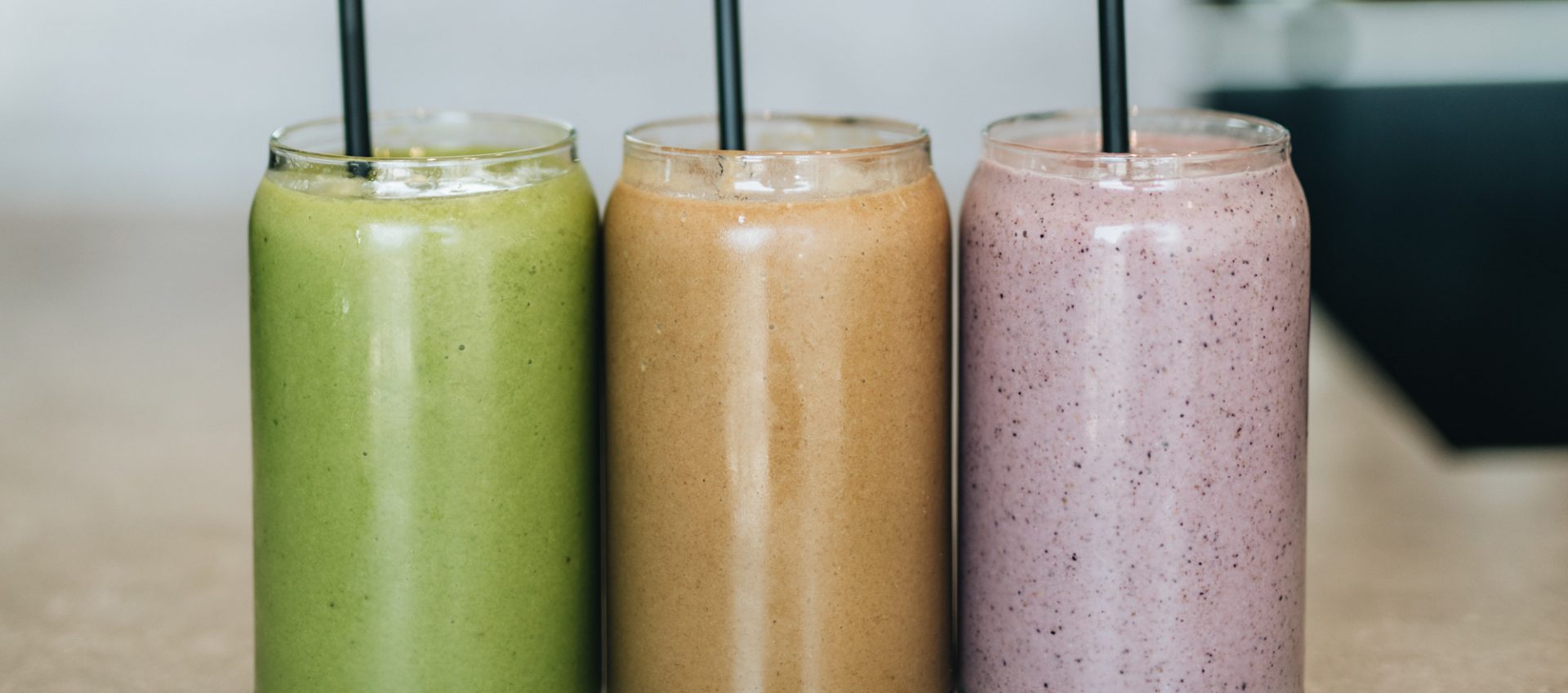 Yield: 2 servings
Prep Time: 10 minutes
Ingredients:
2 overripe bananas, frozen
1 cup shaved ice
Preferred cannabis-infused product
Preferred flavoring
Equipment:
Procedure:
Peel and break the bananas into halves. Throw it in the blender with the the shaved ice and any of these flavoring:
Chocolate. Add 1 tablespoon of melted chocolate and 2 teaspoons of melted cannabutter.
Peanut butter. Add 1/4 cup cannabis cream, 1 tablespoon of peanut butter, and 2 teaspoons of honey.
Mixed berries. Add 1/4 cup cannabis cream, 1/2 cup of frozen berries, and 2 teaspoons of honey.
Once fully blended, pour it in a tall glass and serve with chocolate chips or frozen blueberries on top.
5. Vanilla Eiskaffee
Eiskaffee is a German-style coffee, which is basically iced coffee served with vanilla ice cream and syrup of your choice. This recipe is so easy to make and so delightful to savor during hot summers when you're craving coffee, but not the hot kind. The combination of just two ingredients is truly heavenly as the sweetness of the cannabis-infused ice cream contrasts with the nutty and bitter taste of coffee. If you like to make things fancy, you can also add some toppings such as whipped cream and syrups.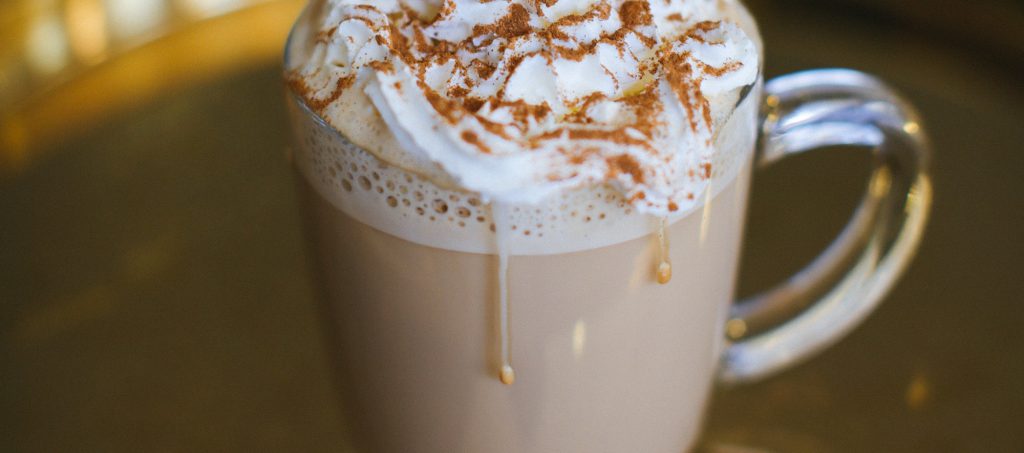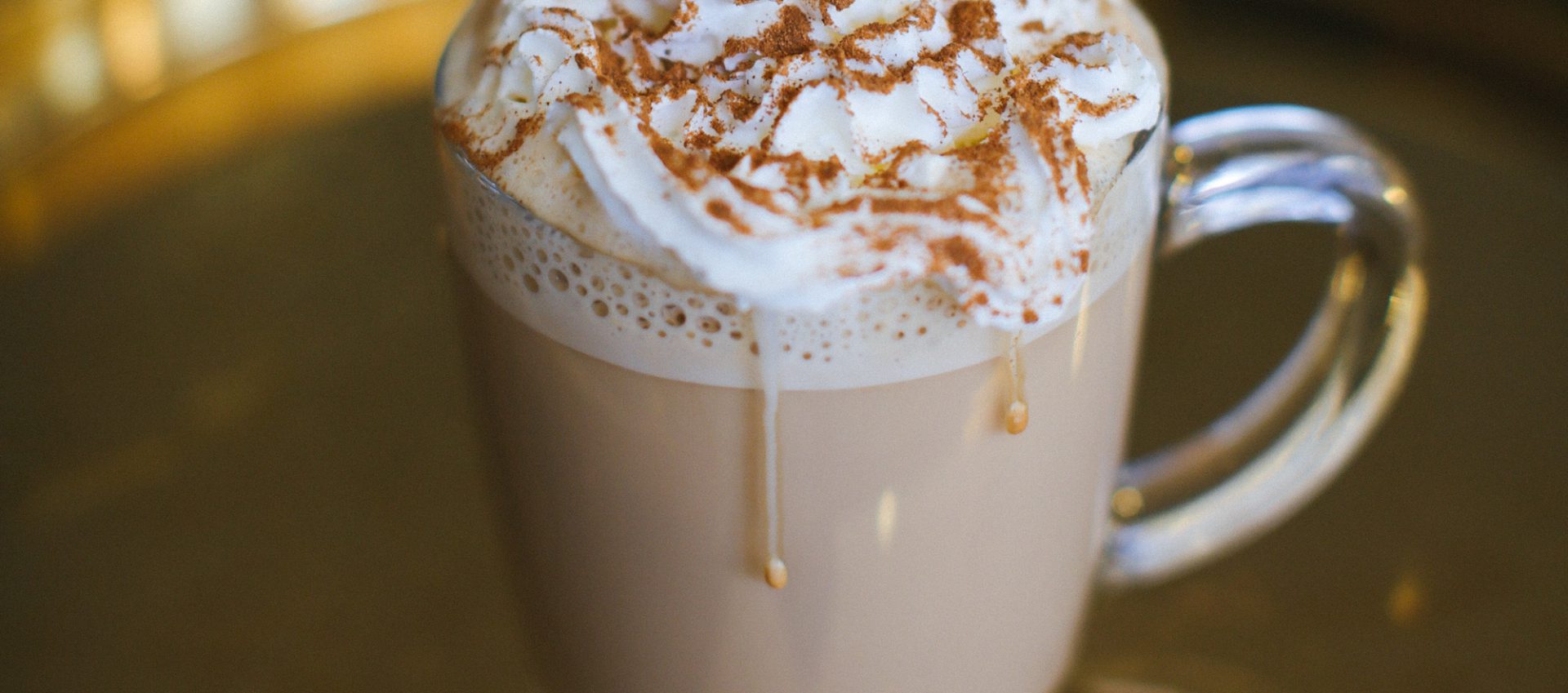 Yield: 1 serving
Prep Time: 5 minutes
Ingredients:
2-3 Scoops of frozen vanilla cannabis ice cream
4-8 ounces of cold, double-strength instant/brewed coffee or a double espresso
Whipped cream (optional)
Preferred syrup
Preferred toppings
Equipment:
Tall glass with a straw or small spoon
Ice cream scooper
Procedure:
Scoop some cannabis ice cream and dump it in your glass.
Pour the coffee and top with some whipped cream if desired.
Drizzle some chocolate or caramel syrup for added flavor.
You can also sprinkle some chocolate shavings, crushed pretzels, cocoa powder, cinnamon, or sea salt as toppings.
Serve immediately and enjoy!
6. Pina Colada Canna Float
Enjoying your time at the beach? Try drinking some ice-cold Pina Colada Float while sunbathing to refresh yourself. With only 4 ingredients, this sweet and delicious adult refreshment is so easy to make and perfect for a hot summer day!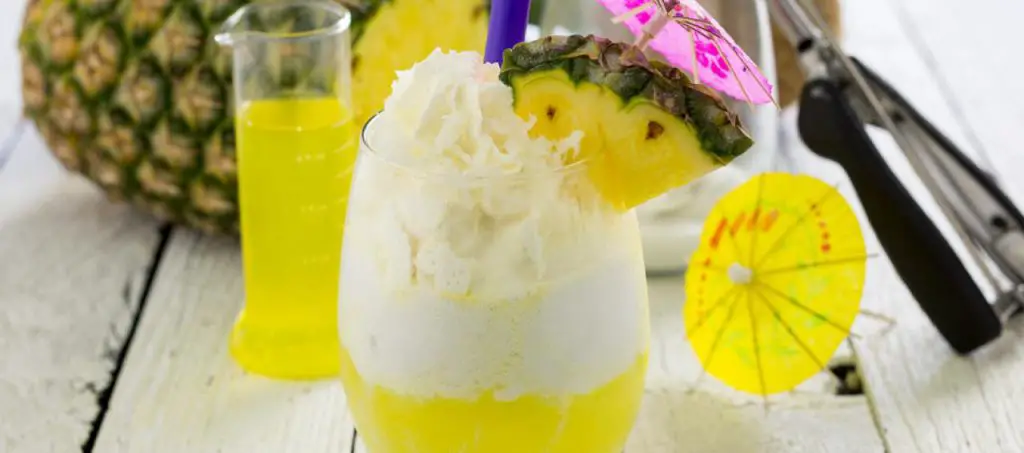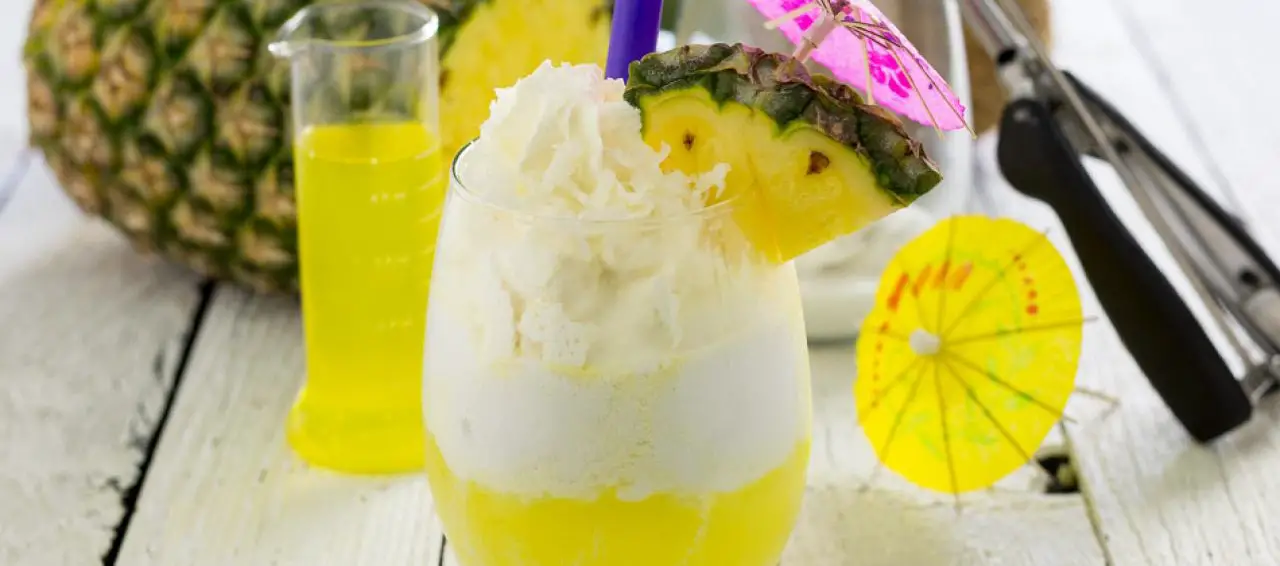 Yield: 4 servings
Prep Time: 5 minutes
Cook Time: 3 minutes
Ingredients:
1 can (10-ounces) Bacardi mixers pina colada frozen concentrate
2 and 1/2 cups seltzer water
1/2 cup white rum
2 cups of ice
2 cups of vanilla cannabis ice cream
Equipment:
Procedure:
In a blender, combine the pina colada concentrate, seltzer water, rum, and ice, then blend it until smooth.
Add 2 scoops of the vanilla cannabis ice cream in the tall glasses and pour the pina colada mixture.
Top it off with 1 scoop of ice cream.
Serve and enjoy!
7. Berry Weed Sherbet
Sherbet is a timeless frozen dessert made with fruit puree, a bit of milk or cream, as well as egg white or gelatin. If you don't particularly enjoy full-fat dairy products such as ice cream, this cannabis-infused sherbet will be right up your alley.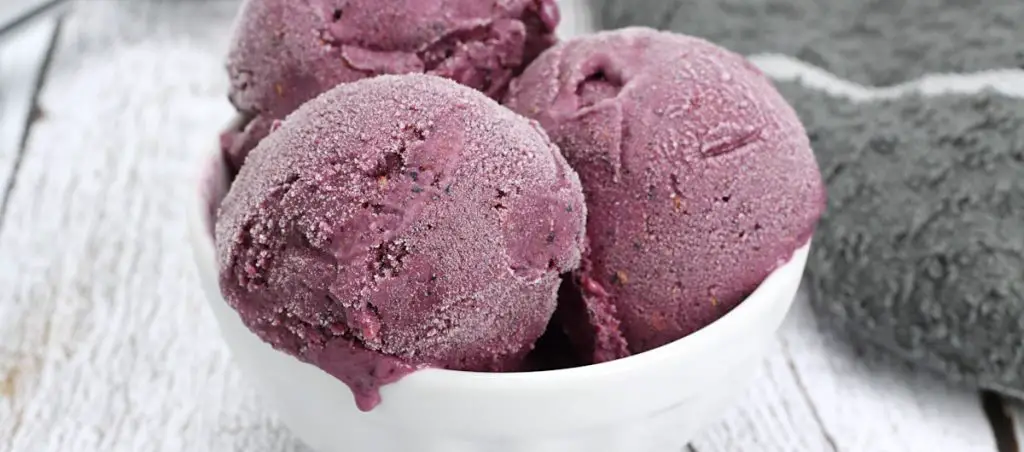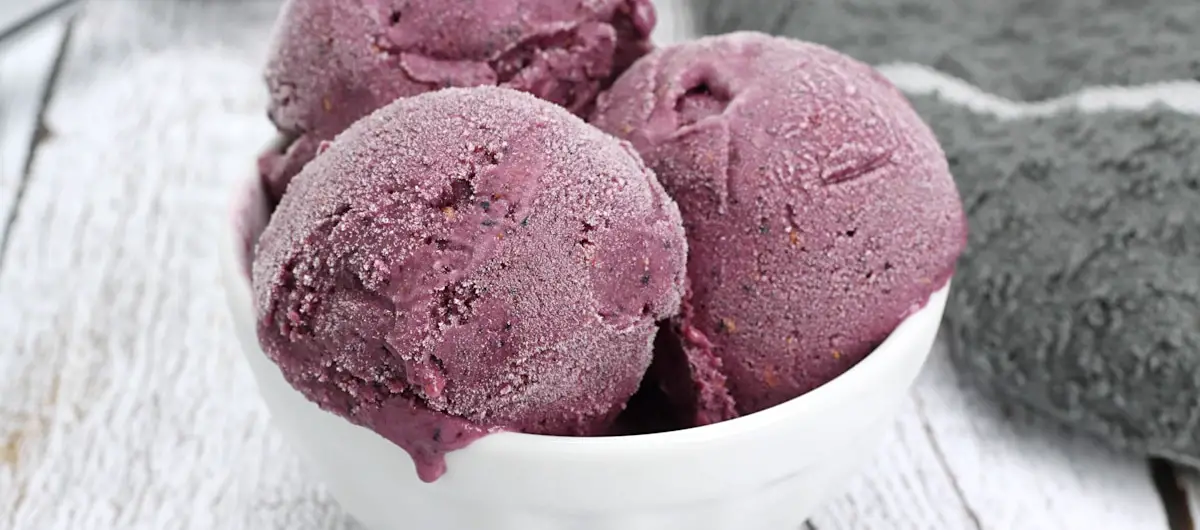 Yield: 4 servings
Prep Time: 8 minutes
Freezing Time: 3 to 4 hours
Ingredients:
2 and 1/2 cup THC-infused almond milk
5 cups of fresh berries (blackberry, blueberry, cranberry, raspberry, etc.)
2 cups of sugar
1 tablespoon of lemon juice
Equipment:
Food processor
Sherbet glass
Container
Scooper
Procedure:
Using a food processor, blend the berries with the sugar until smooth.
Pour the cannabis-infused almond milk and lemon juice in the puree and blend for another 15 seconds.
Pour the sherbet mixture in a container with lid and freeze for a minimum of 3 hours.
Scoop and serve in a sherbet glass.
8. Mango Lassi Frozen Yogurt
Lassi is a popular yogurt-based beverage that originated from India. It is usually made with yogurt, water, spices, and fruits. In this recipe, we'll be using the most popular tropical fruit during summer – sweet, sweet mangoes. This refreshing beverage is smooth, creamy, and delightfully fruity. The best part? It can make you high with every sip!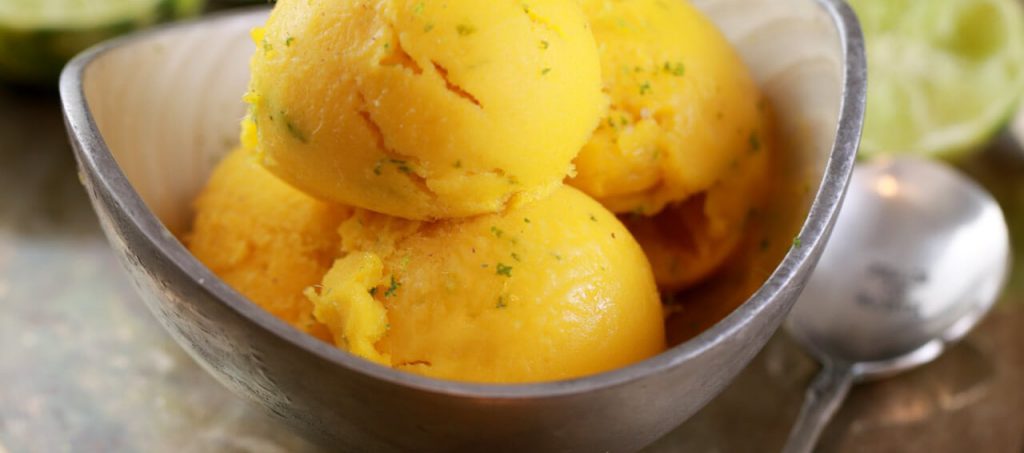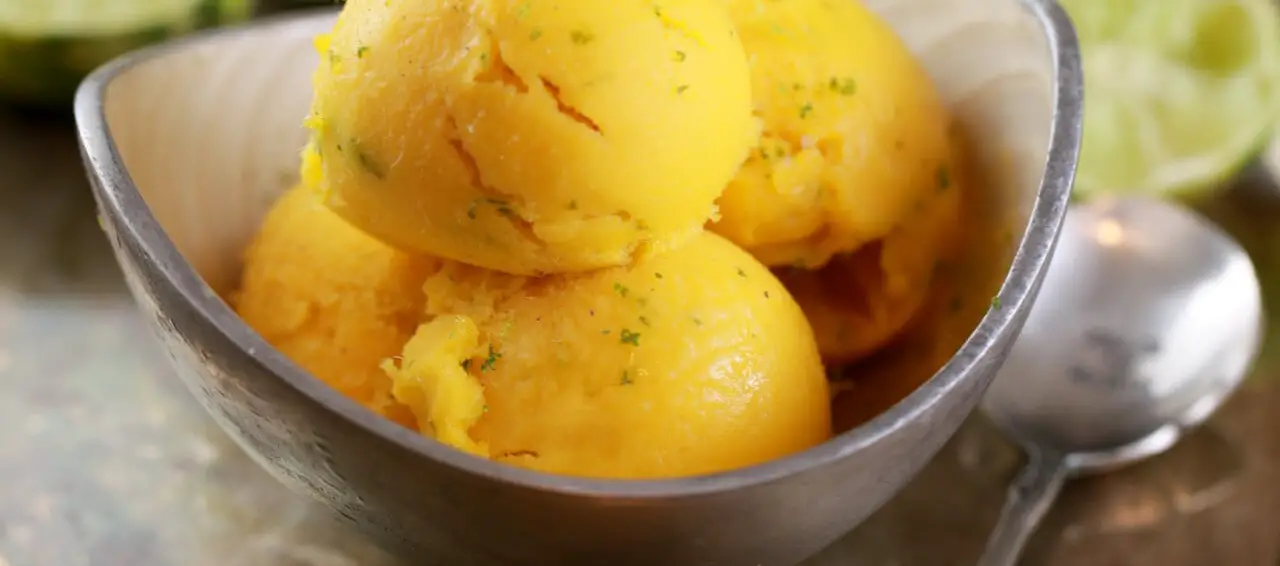 Yield: 2 servings
Prep Time: 15 minutes
Cook Time: 20 minutes
Freezing Time: 60 minutes
Ingredients:
2 cups of mango chunks
2/3 cup honey
1/2 cup cannabis milk
1/2 teaspoon ground cardamom
1 small lime, juiced
1/8 teaspoon salt
1cup full-fat yogurt, chilled
Lemon zest for garnish
Equipment:
Saucepan
Blender
Ice cream maker
Procedure:
In a medium saucepan, combine the mango chunks, honey, lime juice, and salt. Bring it to a gentle boil over medium heat.
When small bubbles start to appear, reduce the heat and allow it to simmer for 15 minutes. Don't forget to stir it occasionally to prevent the mixture from burning.
Turn off the heat and let the mango mixture cool for a few minutes. Once cooled, purée the mixture in a blender until it is completely smooth.
Transfer the puree to a bowl and allow it to chill in the freezer for 45 to 60 minutes. Take it out of the fridge every 15 minutes to give it a good stir.
Combine the chilled mango mixture and chilled yogurt, then freeze the mixture in your ice cream maker.
Pour the lassi in a tall glass and put some lemon zest on top.
9. Cannabis-Infused Brownie Ice Cream Pie
Brownies are already delicious as it is, but those who like to spice things up will definitely love this layered cake of goodness. Cannabis-infused brownies, ice cream, Oreos, and whipped cream in one bite? Yes, please!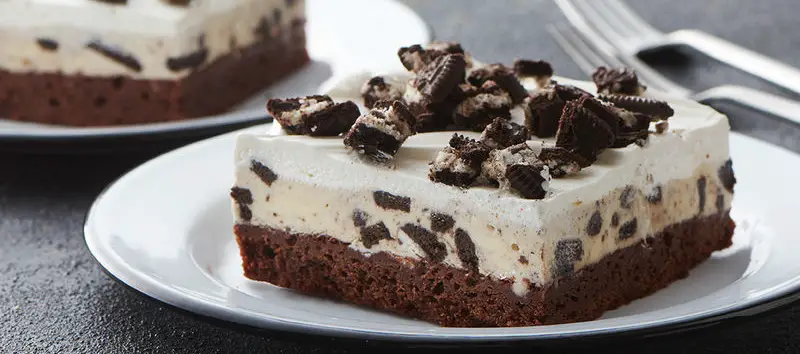 Yield: servings
Prep Time: 20 minutes
Cook Time: minutes
Freezing Time: 12 hours
Ingredients:
Marijuana brownies
6 cups (1.5 quarts) chocolate ice cream
6 cups (1.5 quarts) vanilla cannabis ice cream
16 Oreo cookies, crushed
1 cup hot fudge
1 cup whipped cream
1/4 cup chocolate shavings
Equipment:
Microwave-safe bowl
Silicone spatula
9″ x 13″ rectangular glass pan
Procedure:
Lay the brownies on the rectangular glass pan. This will be the base layer.
Scoop the chocolate ice cream and put it on top of the brownies. Use a silicone spatula to spread it out in an even layer.
Pour the hot fudge in a microwave-safe bowl and pop it in the microwave for about 15 seconds. Mix well and let it cool.
Spread the chocolate fudge all over the chocolate ice cream.
Crush the Oreo cookies and sprinkle it evenly over the chocolate fudge.
Freeze the brownies and ice cream mixture for 1 hour.
Once set, scoop the vanilla ice cream and spread it evenly over the crushed Oreo layer.
Finally, add the whipped cream layer and top it with some chocolate shavings.
Cover the glass pan and freeze it for at least 8 hours. If you have a lot of time and patience to spare, it is best to freeze it 24 hours.
Once firm, slice and serve with a glass of cold milk.
10. Oreo Ice Cream Weed Sandwich
If you're craving for a sweet, ice-cold dessert to enjoy this summer, you'll surely love this stoner's version of the beloved Oreo cookies. Be prepared to munch on some smooth vanilla ice cream sandwiched between super thick Oreo crust drizzled with fudge and caramel.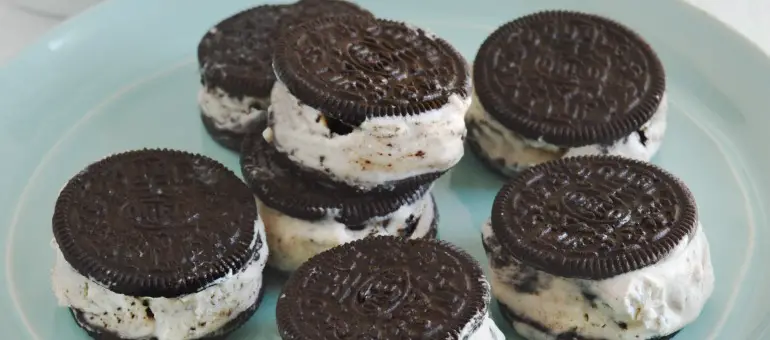 Yield: 18 servings
Prep Time: 20 minutes
Freezing Time: 2 hours
Ingredients:
36 pieces of Oreo cookies
1/2 cup cannabutter
1 tub of vanilla ice cream
Hot fudge and caramel syrup
Equipment:
Food processor
Muffin tray
Measuring spoon (1 tablespoon)
Measuring cup (1/4 cup)
Procedure:
Take out the ice cream from the freezer to soften it a bit.
Separate the cream from the Oreo cookies. Take the cookies and put it in the food processor to crush it into crumbs.
Note: If you don't have a food processor, crush it manually in a resealable plastic bag with a rolling pin.
Melt the cannabutter over low heat then drizzle it over the Oreo crumbs. Pulse the food processor until the cannabutter and the crumbs are well combined. Once done, you'll be able to clump together the crumbs, and it will hold shape.
Spritz your muffin tray with some non stick spray and muffin liners.
Scoop up 1 tablespoon of the oreo-cannabutter mix and dump it in the muffin tray. Pat the crumbs down with a spoon until it becomes flat and compact.
Use a measuring cup to scoop 1/4 cup of ice cream. Pile it on top of the oreo crumb layer. Press it down using the measuring cup to make sure it is packed and smooth on top.
Top it off with another 1 and 1/2 tablespoon of Oreo crumbs to make a sandwich. Pat it down gently with a spoon.
Freeze it for at least 2 hours.
Once frozen, pop it out the oreo sandwiches and drizzle some hot fudge and caramel on top for added flavor.