Eating marijuana brownies is a tradition as old as time. It began sometime in 1954 when Alice B. Toklas published her infamous cookbook containing the recipe for haschich fudge. Since then, the pot brownies craze caught on and became a staple at stoner parties.
So, what do you do if you are planning to throw a party but don't live anywhere near where you can buy these special brownies?
Make your own, of course.
Not only do you save a few hundred bucks by opting for the DIY route, but you will also be able to tweak the potency and flavor of these treats. Just follow our recipe, and we'll teach you how to make rich, chocolatey fudgy brownies that will give you and your friends a potent and long-lasting high.
The Best Fudgy Weed Brownies Recipe
When it comes to marijuana edibles, perhaps there's nothing more iconic than the classic brownies – one with dense, fudgy, insanely chocolatey base and crackly, crispy tops.
The secret to making the best special marijuana brownies in town is to make it from scratch. After all, the cocoa powder used in box brownies is simply no match for the freshly melted chocolate we'll use in this homemade recipe. So ditch those store-bought box mixes and be prepared to make a bit of a mess in the kitchen 'cause we're doing this the "good old fashioned way."
To infuse weed into these heavenly chocolatey treats, we'll be using pre-made cannabutter or cannabis-infused oils. Either of the two works well with this recipe, although using cannabutter helps the brownie retain a firmer shape. But if you prefer a somewhat gooey treat, canna-oil is your best bet.
Yield: 9 servings
Prep Time: 20 minutes
Cook Time: 35 minutes
Ingredients:
2/3 cups all-purpose flour
1 cup granulated sugar
1/2 cup + 2 tbsp cannabutter or canna-oil (at room temperature)
7 ounces melted dark or semisweet chocolate
1 tablespoon cocoa powder
1/2 tablespoon espresso powder
1/4 teaspoon cream of tartar
2 tbsp warm water
1 teaspoon vanilla extract
1 teaspoon salt
2 large eggs
Chocolate chips or chopped nuts (walnuts, pecan, or sliced almonds)
Equipment:
8″ x 8″ baking pan
Parchment paper
3 large bowls
Electric hand mixer or whisk
Double boiler
Silicone spatula
Procedure:
Preheat the oven to 350°F (177°C). Lightly grease your pan and line it with parchment paper, then set aside.
Crack the eggs and separate the whites from the yolk. Put the egg whites in a large mixing bowl and beat it until it becomes fluffy. Then, add the cream of tartar and 1/4 cup of sugar. Continue beating until it reaches a stiff peak.
Note: This step – which is essentially how you make a meringue – is the secret to making those shiny, crispy, crackly tops. Do NOT skip this step.
In a separate bowl, cream the cannabutter and the remaining sugar using a hand mixer. Continue mixing until it appears light and fluffy.
Note: The cannabutter has to be at room temperature so that it will be easier to cream. Moreover, the resulting product will have a more evenly textured batter.
Add the egg yolks, espresso powder dissolved in hot water, and vanilla extract in the butter you just creamed. Mix it for another 5 minutes.
Note: The espresso powder is an optional ingredient, so you can skip it if you don't have any. But it enhances the depth and flavor of the chocolate, so it is best to include it.
Add the melted chocolate in the creamed butter mixture and mix until well-combined.
Take your beaten egg whites and carefully fold them in the chocolate-butter mixture using a silicone spatula. Do this in a sweeping clockwise motion. Do not over-mix as this will break the air bubbles.
In a separate bowl, whisk the flour, salt, and cocoa powder. Add this dry mixture into the wet ingredients and mix everything until just combined. It's okay if there are small clumps here and there. Do not over-mix because it will harden the resulting product.
Add some chocolate chips or chopped nuts (or both) if preferred, then give it a final stir (one or two sweeping motions will do).
Pour the batter into the prepared baking pan. Use a spatula to spread the mixture evenly.
Bake it for 35 to 45 minutes. You don't want to over-bake it. Otherwise, it won't have that slightly gooey chocolate fudge texture.
Let the brownies cool completely before slicing it with a lightly greased knife. Cut it into 9 equal-sized pieces and savor every bite of this heavenly delight with your friends.
Flavor Ideas For Not-So-Usual Canna-Brownies
One of the beauties of home cooking is that you could tweak the recipe to suit your preferences. If you would like to make things a bit more special, consider getting creative with the toppings and flavor of your marijuana brownies. Here are several flavor ideas to get you started:
1. S'mores Weed Brownies
This perfect campfire treat is easy to recreate as brownies.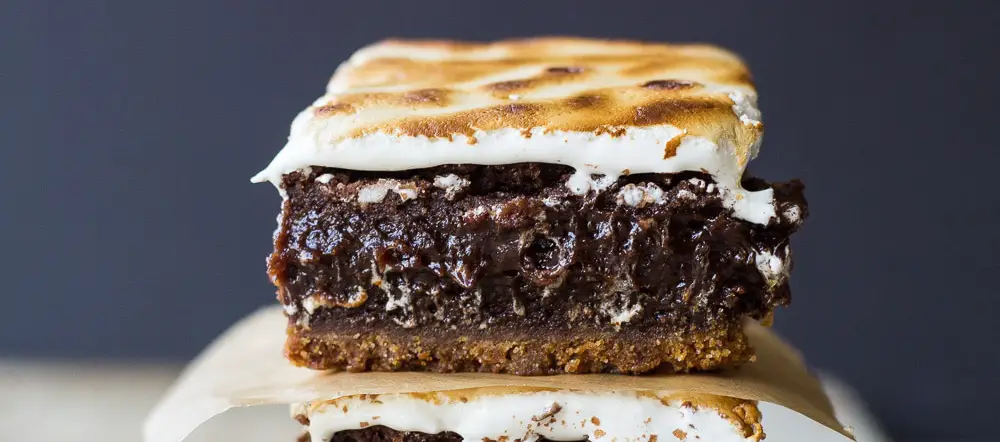 Ingredients:
1/2 cup mini marshmallows
1/4 cup melted chocolate
A culinary torch
Procedure:
Bake the brownies as instructed above.
After slicing it, put some mini marshmallows on top and torch it until the outer part of the marshmallows has a toasted color.
Lastly, drizzle thin lines of melted chocolate and your s'mores brownies are ready for serving.
Chocolate Peanut Butter Ganache Brownies
These marijuana brownies will definitely make any peanut butter and chocolate lovers ecstatic. This variation makes use of a chocolate and peanut butter ganache. Granted, it covers the perfectly crispy and crackly top of the brownies, but that's okay since you'll get to enjoy a far more complex flavor.
Ingredients:
1 and 1/2 cup milk chocolate chips
1/3 cup creamy peanut butter
Procedure:
Pour the peanut butter and chocolate in a microwave-safe bowl.
Pop it in the oven using 50% power for 30 seconds. Stir it until melted and well-blended. If not, melt it for another 15 seconds.
Pour the mixture over the unsliced brownies and spread it into an even layer using a spatula.
Refrigerate for at least 30 minutes. Once set, cut the brownies and serve.
2. Caramel-Drizzled Sundae Weed Brownies
This insanely decadent and creamy brownies recipe is perfect for ice cream aficionados out there. The best thing about this, though, is that it only takes a couple of minutes to prepare.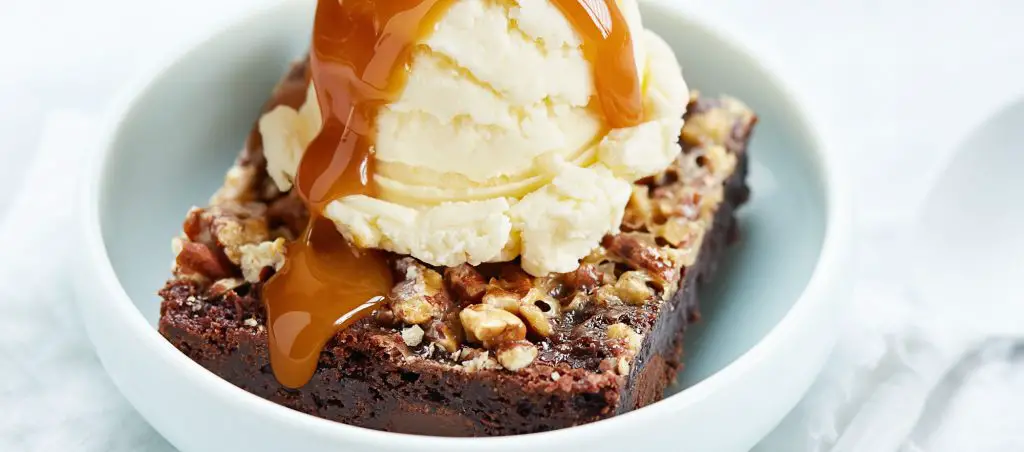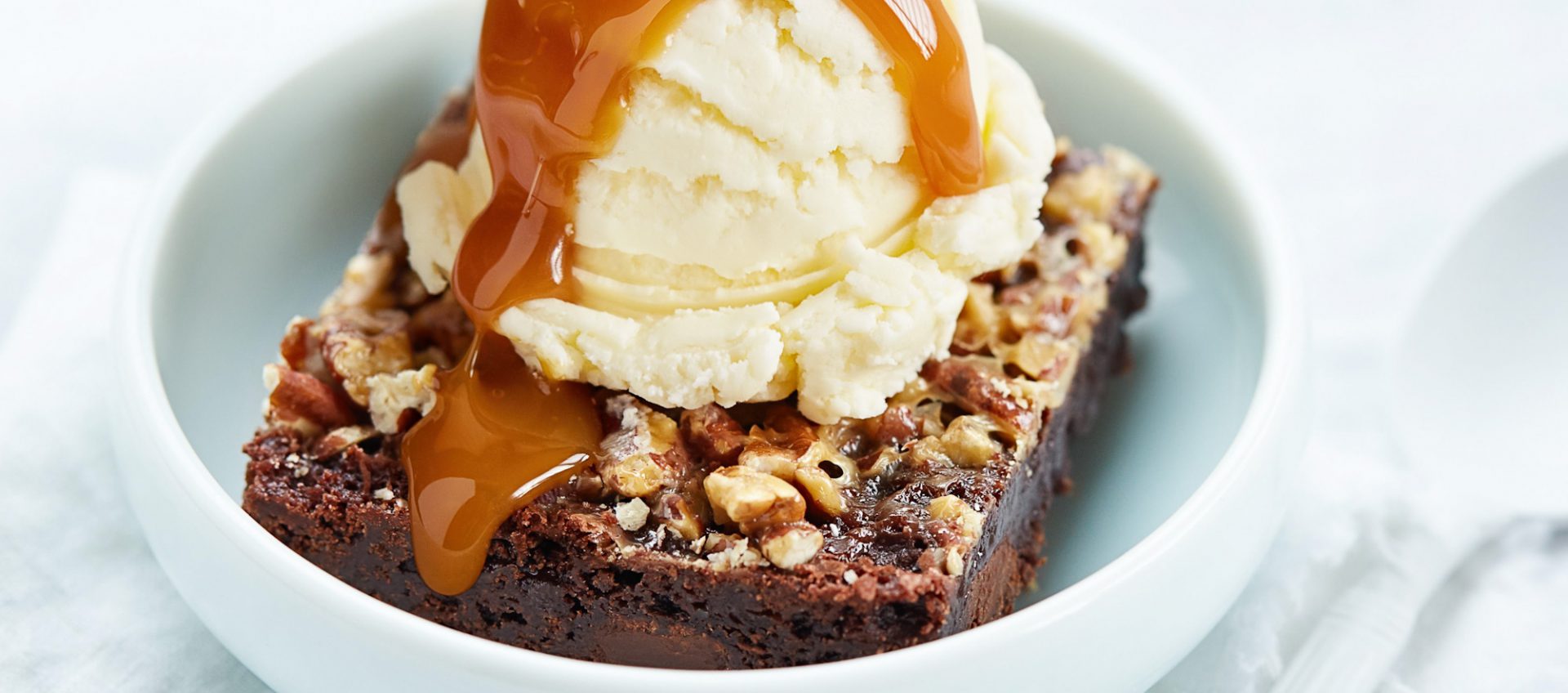 Ingredients:
2 cups vanilla ice cream
1/4 cup caramel syrup
1/2 cup whipped cream
Small ice cream scooper
Procedure:
Prepare the brownies as detailed in the recipe above. Once cooled, cut it into 9 pieces and put each slice in a dessert platter.
Using a spoon, dollop some whipped cream on top of the brownie.
Drizzle thin lines of caramel syrup on top. Feel free to be creative on the patterns and designs you'll make.
Put a small scoop of ice cream on top and serve immediately.
3. Cream Cheese Canna-Brownies
If you're not into uber-sweet brownies, this recipe is for you. Adding a cream cheese frosting will balance out the flavor of your sweet weed brownies and give it a lovely, creamy texture.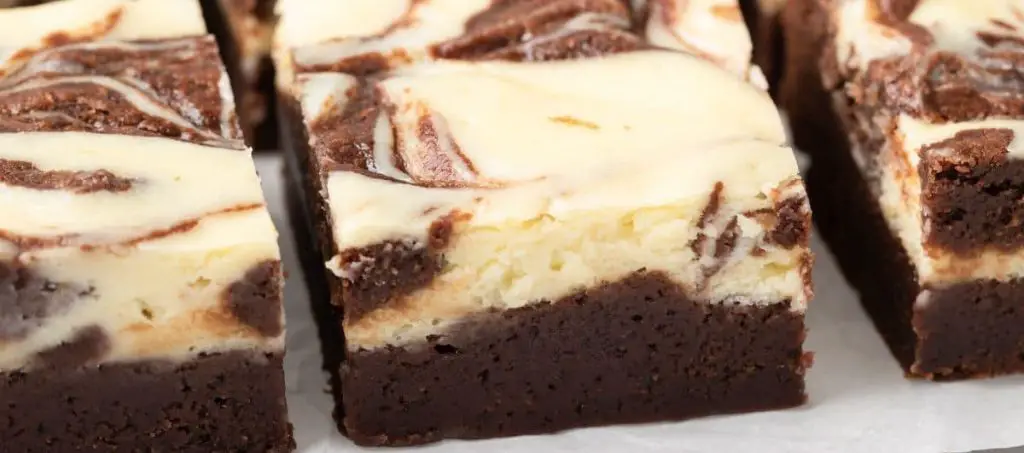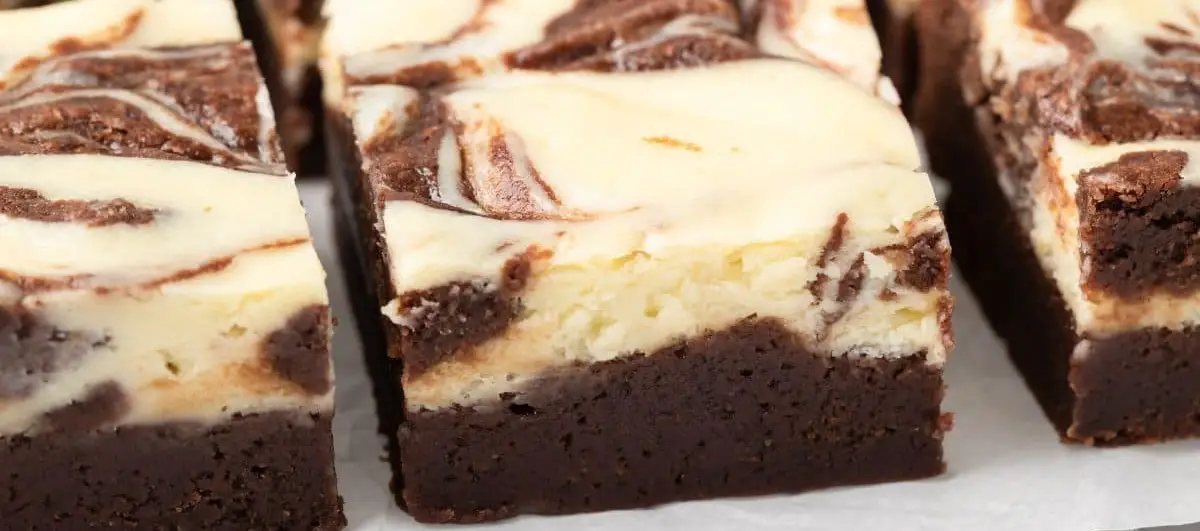 Ingredients:
8 ounces cream cheese, at room temperature
1/4 cup granulated sugar
1/2 teaspoon vanilla extract
1 egg yolk
Double boiler
Procedure:
Combine the softened cream cheese, sugar, vanilla extract, and egg yolk in a heat-safe bowl.
Heat it in a double-boiler and stir for 5 to 8 minutes or until the mixture becomes thick and creamy. Make sure the egg yolk is thoroughly cooked.
Turn off the heat and let the mixture cool down for 5 or so minutes.
Spread cream cheese mixture all over the brownies, then refrigerate it for about 30 minutes to 1 hour.
Serve chilled.
4. Crumb Coffee Cake Brownies
Crumb toppings for brownies are highly underrated delights. It is quite an uncommon combination, but it is definitely worth trying.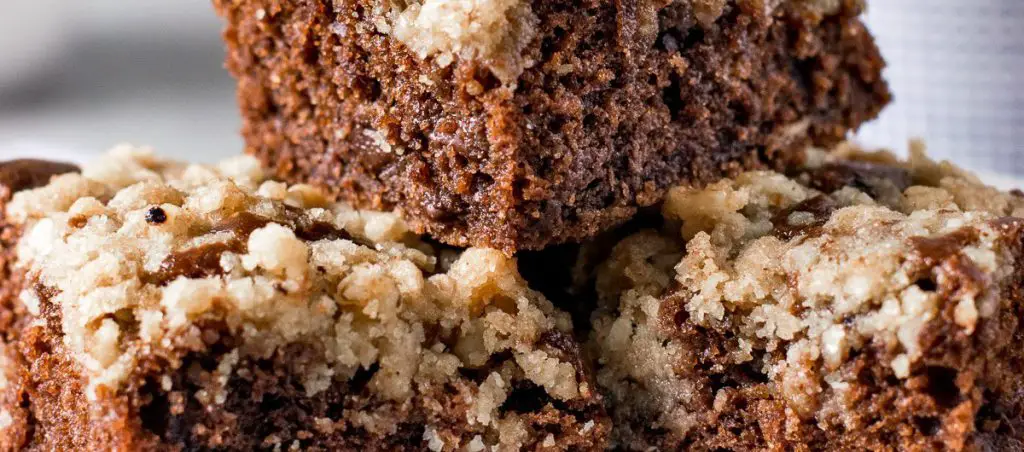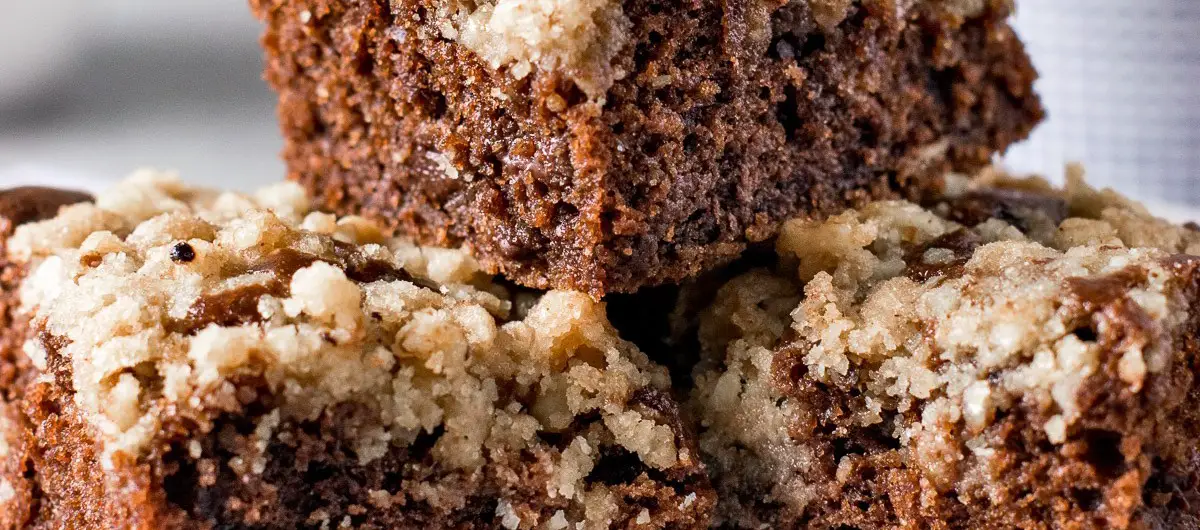 Ingredients:
1 tablespoon instant espresso powder
1/2 cup chopped walnuts
1 stick of softened butter
1/2 cup sugar
1 and 1/4 cups all-purpose flour
1 teaspoon cinnamon
Procedure:
Mix all the ingredients in a bowl.
Scatter the crumb mixture over the brownie batter.
Bake the brownies as instructed in the recipe detailed above.
Afterword
We know that these fudgy marijuana brownies are irresistibly delicious, but always remember that with edibles, a little goes a long way. So be a responsible edible consumer by going low and slow.
Take a couple of bites and wait for up to 2 hours before dosing anew to see if the psychoactive effects are already potent enough.
If you consumed more than you meant to, stay calm and know what to do in case you feel like you're greening out.