Whether it is for breakfast or snacking at any time of the day, indulging in some warm, crunchy, and fluffy Belgian waffles is always a good idea. But you know what's better? Pairing it with a tad bit of weed's goodness, of course! This recipe is a modified version of the oh-so decadent treat for cannabis aficionados out there.
What Makes Belgian Waffles Different From Regular Waffles
North Americans have indulged in Belgian waffles for so long. But it wasn't until 1958 that Maurice Vermersch popularized the recipe in the US.
Belgian waffles are different from regular waffles in three aspects: size, texture, and ingredients used.
Size. Compared to American waffles, Belgian waffles are larger and thicker. They also have deep grid patterns or pockets, which makes it ideal for holding more syrup, whipped cream, ice cream, berries, and whatever toppings you have in mind.
Texture. Belgian waffles have a light batter with a rich, fluffier texture. What endears it to most people is that it is crunchy on the outside and chewy on the inside, unlike regular waffles that are just soft and flat (like pancakes, but with grids).
Ingredients. The secret to making these fluffy delights is adding yeast or egg whites as a leavening agent. These ingredients give the batter so much volume. American style waffles, on the other hand, use baking powder or baking soda. Yeast, egg whites, baking powder, and baking soda are all used to incorporate carbon dioxide or air pockets in the batter to make it fluffy. But only the yeast and egg whites can give your waffles that crunchy exterior and high rise. On its own, baking powder and baking soda result in soggy, oily waffles that might as well be pancakes.
Yeasted Belgian Weed Waffles Recipe
This version of Belgian waffles uses yeast as a leavening agent. This, by far, is the tried and tested method of making authentic Belgian waffles. Granted, it does involve a wee bit of patience and extra steps, but the end product is seriously worth the wait.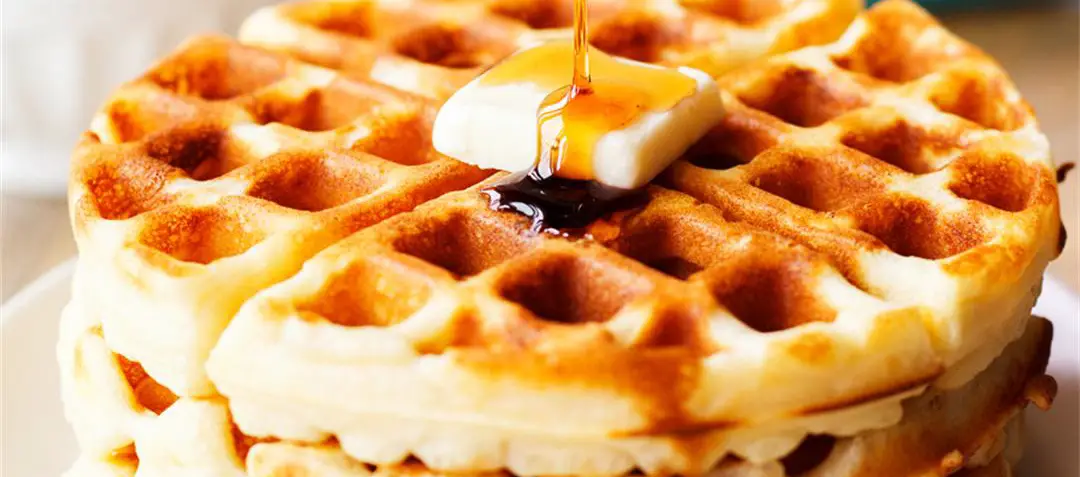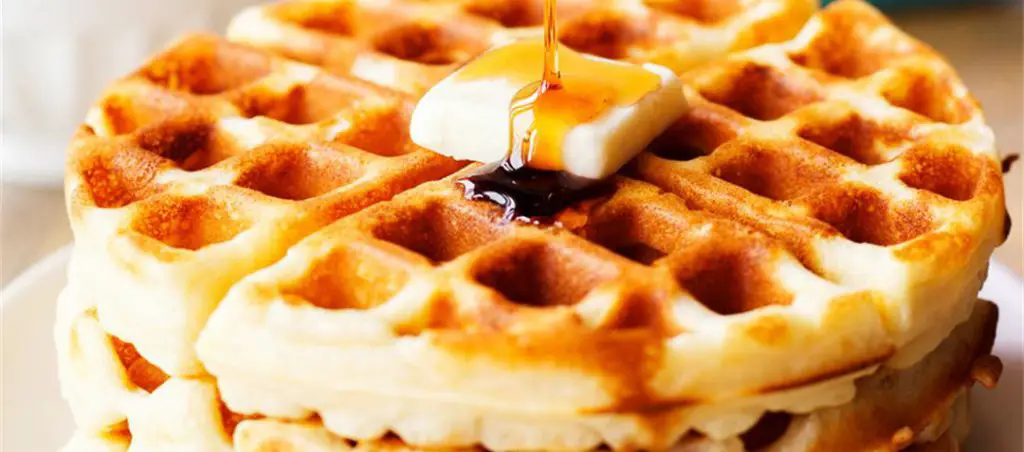 Yield: 4 to 6 large waffles
Prep Time: 10 minutes
Inactive Prep Time: 2 hours or overnight
Cook Time: 5 to 8 minutes per batch
Ingredients:
2 cups of all-purpose flour (or 3/4 cup APF and 1/4 cup of whole wheat flour for a denser waffle with more texture)
2 cups of warm milk (if using 1/4 cup whole wheat, add 1 tablespoon of milk)
1/2 cup warm water
2 teaspoons active dry yeast powder
4 tablespoons melted cannabutter
2 teaspoons of sugar
1 teaspoon of salt
2 large eggs
1/4 teaspoon baking soda
1/2 teaspoon vanilla extract
Equipment:
Waffle iron/waffle maker
Wire whisk
Large bowl
Plastic wrap or clean kitchen towel
Procedure:
Pour the warm water in a large bowl, then sprinkle the yeast. After a minute or so, add the sugar. Let this sit for 5 to 10 minutes to activate the yeast.
Once the yeast has rested, add the melted cannabutter, warm milk, flour, and salt. Whisk thoroughly until it appears smooth and well-combined.
Cover loosely with plastic wrap or a clean towel, then let sit in a warm, dry place for 2 hours or better yet, overnight.
When ready to use, preheat your waffle iron and preheat the oven to 200℉.
Whisk eggs in a small bowl, then sprinkle some baking soda and whisk to combine. Make sure there are no lumps of baking soda.
Pour the egg mixture into the batter and whisk until smooth.
Lightly grease your waffle maker with melted butter. Depending on your waffle iron, you may need 1/2 to 1 cup of batter per waffle. The batter will be thin and runny, so just pour it into the center of your iron and let it spread.
Cook it for 5 to 8 minutes or until it has achieved a golden brown color.
Right after taking it off the waffle maker, transfer the finished cannabis waffles to the oven to keep it warm and fresh until ready to be eaten.
Serve with your favorite toppings and enjoy!
Note: Make sure your water is warm and not boiling hot. It must be within 110 to 115℉. If you don't have an infrared or kitchen thermometer, test it with your fingers. If it is too uncomfortable for you, it is too hot for the yeast. Remember that if the water is too hot, it may inhibit the growth of your yeast instead of promoting it.
Cannabis-Infused Belgian Waffles Using Whipped Eggs Whites
If you don't have dried yeast powder on hand, your next best bet is to use whipped egg whites as the leavening agent. You won't have to wait long to bake these goodies, but the result will be as great and as fluffy as the yeast version. However, you'll need an electric hand mixer. Otherwise, prepare for an intense arm workout!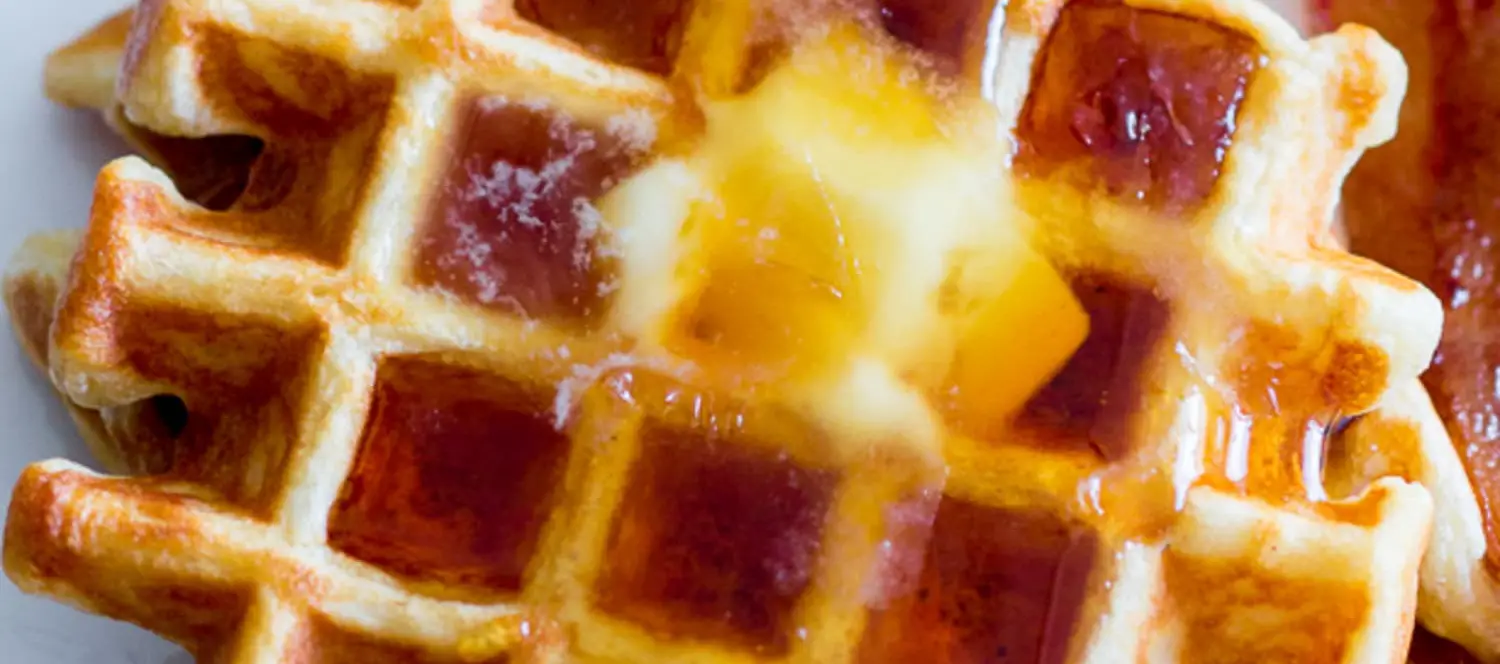 Yield: 6 large waffles
Prep Time: 10 minutes
Cook Time: 5 minutes per batch
Ingredients:
1-3/4 cups of all-purpose flour
1-3/4 of cups milk
1 teaspoon of baking powder
1/2 teaspoon of salt
1/2 teaspoon of vanilla extract
2 tablespoons of sugar
1/2 cup of cannabutter or canna-oil
2 large eggs, chilled
Equipment:
Waffle iron/waffle maker
Electric hand mixer or wire whisk
Large metal mixing bowl
2 glass bowls
Procedure:
Put the metal mixing bowl and whisk attachment of your electric mixer in the fridge for 30 minutes to let it cool.
In a large bowl, sift together your flour, baking powder, sugar, and salt. Set it aside.
Separate the egg yolks and whites into two different bowls.
Add the milk and cannabutter/cannaoil to the glass bowl with the egg yolks and mix well. Then, stir in the dry ingredients.
At this point, you have to preheat your waffle iron and prepare some melted butter for greasing. Don't grease it up yet, though, or you'll burn the butter.
Beat the egg whites in the cold metal mixing bowl with a hand mixer until stiff peaks form. Then, gently fold in the whipped egg whites to the batter in clockwise sweeping motions. Be careful not to over-mix it to avoid breaking the air bubbles in the egg whites.
Lightly grease the waffle iron pans with melted butter, then pour the batter and cook until golden brown.
Right after taking it off the waffle maker, transfer the finished cannabis waffles to the oven to keep it warm and fresh until ready to be eaten.
Serve with your favorite toppings and enjoy!
Note: This step makes it easier to achieve fluffy whipped egg whites. Don't skip this step.
Flavor & Topping Ideas For Extra Delish Belgian Weed Waffles
On its own, the Belgian weed waffles we made are already delicious enough. However, it is possible to make things extra special by adding any toppings you fancy. Here are our top suggestions for an indulgent wake-and-bake delight.
1. Mascarpone Cream With Roasted Pineapples & Grated Carrots
If you're craving something unusual and a tad better than the traditional maple syrup, look no further than this mascarpone cream, roasted pineapple, and carrot recipe. This combo adds an elegant touch to your hearty cannabis waffles, which will leave you craving for more.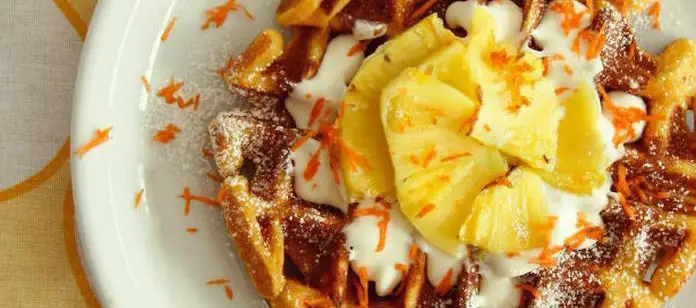 Ingredients:
1/2 cup of mascarpone
1 tablespoon of powdered sugar
1 tablespoon fresh lemon juice
1/4 cup of finely grated carrots
6 slices of roasted pineapples
Procedure:
In a small bowl, combine the mascarpone, 1 tablespoon sugar, and lemon juice. Set aside.
Roast your pineapple slices.
Place the warm waffles on a plate, then add about 2 tablespoons of the mascarpone cream in the middle.
Top it with a slice of the roasted pineapple. Sprinkle some powdered sugar and a bit of finely grated carrots.
Serve and enjoy!
2. Cream Cheese Glaze
If you want your cannabis waffles lusciously moist and deliciously spiced, this cream cheese glaze is for you. Savor its mild, sweet taste with a pleasant slight tang.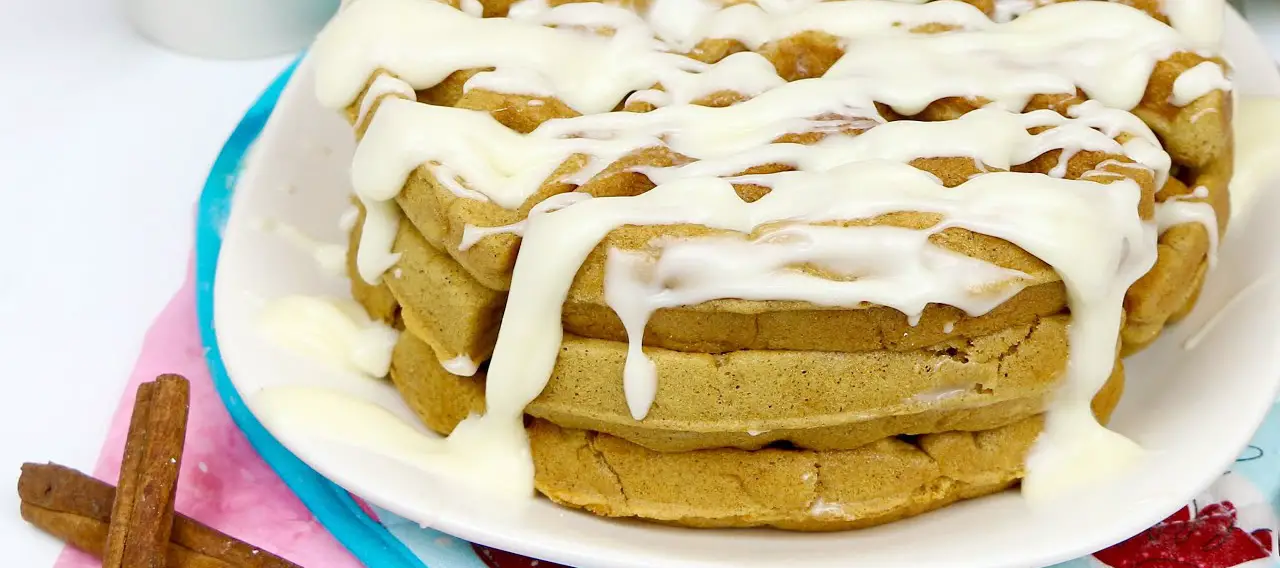 Ingredients:
4 oz cream cheese, softened (room temp)
4 tbsp butter, softened (room temp)
1-1/2 cups confectioners sugar
1 tsp vanilla extract
1/2 cup whole milk
Berries and maple syrup (optional)
Procedure:
Whip the cream cheese and butter together in a large bowl with a hand mixer until smooth.
Add the confectioners' sugar, vanilla, and milk one at a time. Beat the mixture until the glaze is smooth and lump-free.
Serve the waffles with a spoonful of the cream cheese glaze. Top it with berries and maple syrup if desired.
Serve and enjoy!
3. Nutella S'mores
There's nothing better than good old Nutella in taking your desserts to a whole new level. This combo is so easy to whip up, it won't even take you 5 minutes to assemble.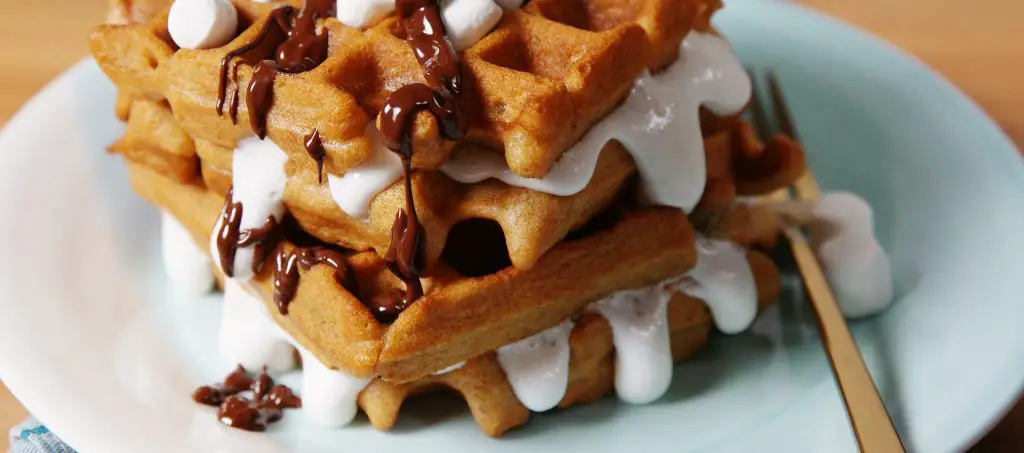 Ingredients:
A dollop of Nutella or any other chocolate/hazelnut spread
2 tablespoons of mini marshmallow
2 tablespoons of crushed graham crackers
Procedure:
Serve the freshly made waffle on a plate.
Using a spoon, smear generous amounts of Nutella on your waffles. You can adjust the amount to fit your preference.
Sprinkle some crushed graham crackers.
Lastly, top it off with some mini marshmallows. If you're feeling extra fancy, you can use a culinary blowtorch to roast the top part of the marshmallows or you can leave it as it is.
Serve and enjoy!
4. Vanilla Ice Cream With Fresh Berries & Caramel Drizzle
If you prefer an easy and healthy fix to level up your hearty Belgian waffles, top it off with ice cream, berries, and caramel. Unlike others, this recipe only requires assembling the ingredients in the platter. No need for additional cooking.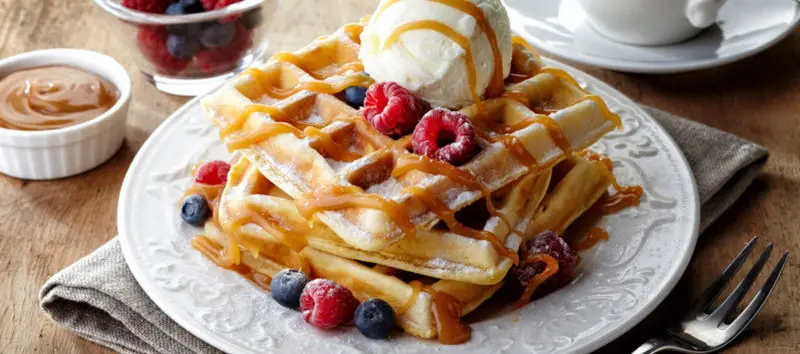 Veteran edible consumers can opt to use weed-infused ice cream for this recipe if they have a high tolerance for THC. Remember, the waffle is already infused with cannabis. Using weed ice cream for the toppings is an overkill for those with lower tolerance.
Ingredients:
6 scoops of vanilla ice cream or cannabis ice cream
1/4 cup of fresh berries of choice (blueberries, blackberries, cranberries, raspberries, etc.)
3 tablespoons of caramel syrup
Procedure:
Put your waffles on a plate, then put a scoop of vanilla ice cream on top.
Sprinkle some berries of your choice, then drizzle some caramel syrup all over it.
Serve and enjoy!
5. Chocolate Banana Blaster
Who doesn't love the classic combination of chocolates, whipped cream, and banana? This delish dish is easy to prepare, and it only needs four ingredients.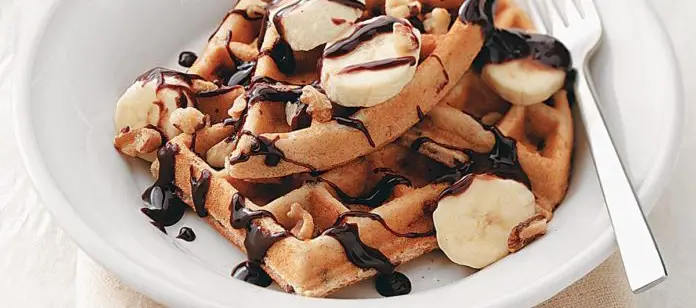 Those with high THC tolerance could up the dosage by using whipped canna-cream. Be careful not to overdose, though!
Ingredients:
Dollops of whipped cream
4 tablespoons of hot fudge syrup
3 bananas, sliced
4 tablespoons of mini chocolate chips
Procedure:
Put your waffles on a plate, then put a dollop of whipped cream on top. The amount depends on how much whipped cream you like on your waffles.
Top it off with sliced bananas and mini chocolate chips. Then, drizzle some hot fudge syrup all over it.
Serve and enjoy!